ORLANDO│On Dec. 22, Bishop John Noonan blessed the new multi-purpose building at Holy Cross Parish in Orlando, designed to help grow parish ministries.
Construction crews completed the project in less than a year. The new 12,915 square foot building has moveable walls that can divide the space into six big classrooms to help people dive deeper into their Catholic faith. Two offices and a small conference room at the entrance provide a reception and working area.
Bishop Noonan praised the community for its commitment to growing the Kingdom of God. Father Esaú García, pastor, believes this new center will continue to foster the feeling of community. "This building will give these ministries the ability to meet simultaneously and not be limited to evening or weekend meetings." The parish has nearly 5,000 parishioners and 60 ministries and had outgrown the small, older building mostly used for faith formation.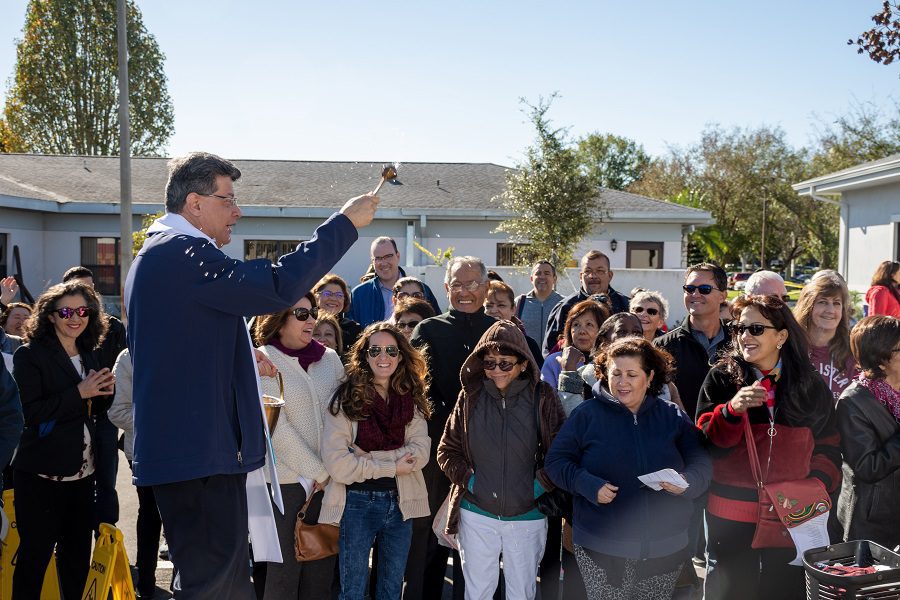 Parishioner Serapio "Skip" Muñoz and his wife were present for the occasion. "We've been here since the beginning, more than 25 years," said Muñoz. "Here at Holy Cross, we are all about family. This building is important because it gives families a place to come and enjoy themselves and help them continue their Catholicism in a family way." He looks forward to using the facility for retreats, meetings, fundraisers and family gatherings, like wedding receptions and the annual fish fry.
This blessing also coincided with the anniversary of the first Christmas Mass of Holy Cross Parish celebrated in 1993. "I see it as a gift the community is giving to themselves," said Father García.
By Glenda Meekins of the Florida Catholic – January 3, 2019