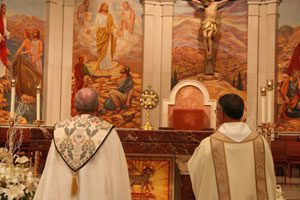 His love of Jesus was evident on his face, as Robinson Olivares, a seminarian at St. John Vianney College Seminary in Miami, solemnly carried a large, red candleholder through the aisles of St. James Cathedral as part of the Diocese of Orlando's annual Corpus Christi procession, led by Bishop John Noonan. Olivares was among the nearly 1,000 faithful who gathered on June 2, the solemnity of the Most Holy Body and Blood of Christ, to prayerfully express through song and prayer, Benediction and Adoration, their belief of Jesus Christ, truly present in the Blessed Sacrament.
"I was struck by how much love Jesus has for us in the Eucharist when I made my first retreat as a young adult in New York," Olivares said. "Now, every time I am able to observe the Feast of Corpus Christi or participate in the celebration of Mass, it renews that encounter and it is a blessing."
The procession was originally planned to begin at St. James Cathedral and travel to St. James Cathedral School where Eucharistic altars of repose highlighting the music and traditions of the various ethnic communities of the diocese were located; however, heavy rain and winds swept through downtown Orlando, keeping the procession indoors. Still, the weather did not dampen the spirits of the participants.
"I am proud to be a witness to God and to come and praise my God in this manner," said Rose Amalu of St. Peter and Paul Catholic Church in Winter Park. "As Catholics, we need to be aware of what we are receiving when we receive the Body and Blood of Christ. Jesus asks to do this in remembrance of him, and we need to do just that."
Since the 13th century, the Church has universally paused on one day of the year to ponder the Mystery of the Most Holy Eucharist. The first outdoor Eucharistic Procession occurred in Cologne, Germany. For more than 700 years, the Church has celebrated the Solemnity of the Most Holy Body and Blood of Christ, Corpus Christi, calling us to "adore what we become" (St. Augustine).
During the celebration of Mass, Bishop Noonan said, "Today we come together as Catholics. We gather together to be fed with the most sacred meal that we receive in our lives. In a few minutes, we will bring our offerings to the altar of bread and wine. We are blessed in our offerings to the Lord, and the Lord gives back to us the greatest gift of all–the gift of Christ his son."
"Taking part in this celebration reminds us of how much Jesus loves us and how close we are to him," said Most Precious Blood in Oviedo parishioner Lymari Pate, who participated with her husband, Brian, and children Gabriella, 5, and Joseph, 1. "It is a time for spiritual growth for us. It is also a way for us to share our faith with our children and to show them what it means to love Jesus in the Blessed Sacrament.