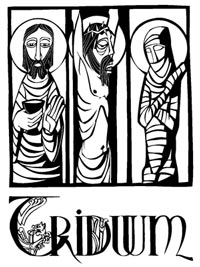 The following is Bishop John Noonan's schedule at St. James Cathedral for Holy Week. All are invited to participate in these beautiful and holy liturgical celebrations and devotions.
March 24
Palm Sunday Mass, 9 a.m.
March 27
Chrism Mass, 6:30 p.m.
March 28, Holy Thursday
7:30 p.m. Mass of the Lord's Supper
8:30 p.m. to Midnight, Adoration of the Blessed Sacrament
March 29, Good Friday
3 p.m. Celebration of the Passion of the Lord
March 30, Holy Saturday
8 a.m. Morning Prayer for Life and Procession
8 p.m. Easter Vigil
March 31, Easter Sunday
10:30 a.m. Easter Mass
St. James Cathedral is located at 215 North Orange Avenue, Orlando.