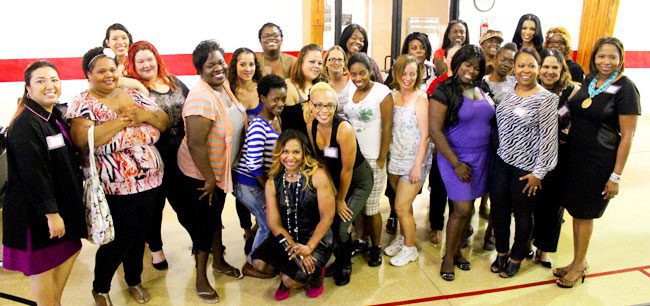 It started with a phone call. Former news anchor Secily Wilson found herself with more clothes than closet space and called her best friend Sartura Shuman-Smith looking for advice. The answer was immediate, "Give them away."
"When you have too much, it means you have been blessed abundantly" Shuman-Smith explained. "When you have a lot, you have a lot to give."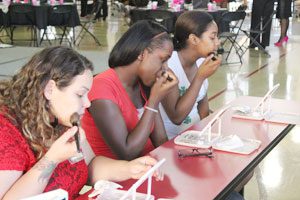 From that initial conversation grew a team of professional stylists, make-up artists, runway models, and a career consultant, all ready and willing to volunteer their time to provide a day of pampering and renewal to homeless women in transition. Twenty-five recent graduates and current residents of Shepherd's House attended "Fall into FABulous," an event reminding the women they are "Fearless, Amazing, and Blessed," no matter what their circumstances.
"The goal of this event is to raise the self-esteem and self-awareness of our ladies" explains Shepherd's House program manager Diazina Mobley. "We are confident that this event will empower the women to recognize their true strength and potential."
Shepherd's House, a program of Catholic Charities of Central Florida, provides safe housing, child care, and a circle of support to homeless single mothers. During the intensive six month program women are given the opportunity to gain financial stability, parenting support, job training, and life skills to establish a solid foundation on which to build their future.
Through workshops on wardrobe styling, interviewing, and makeup, the women received tips for success. Former runway model Jada Jackson taught the secrets to "walking the walk", or how to present themselves with poise and confidence. The highlight of the day however came at the end. A surprise Boutique Experience paired each woman with a personal shopper to browse racks of new and donated clothing and accessories to give them the foundations of a professional wardrobe.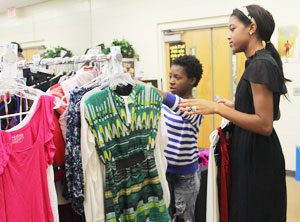 Darla Braziel has been at Shepherd's House with her three year old son for five months. For her, the day provided a needed reminder that even though she has gone through difficult times, it is not her circumstances that define her.
"During this process you can get depressed and lose sight as a woman of who you are. It strengthened me today because it was about me and not my situation of being homeless" Braziel explained. "That is what was beautiful about it. It helped reaffirm me as a woman, that I have things to offer the world. My situation is not who I am, it's just my situation."