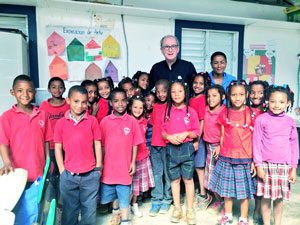 Bishop John Noonan recently returned from a five-day trip, Feb. 9-13, to the Diocese of San Juan de la Maguana, Orlando's sister diocese in the Dominican Republic, where he visited with people in several communities and confirmed 85 young people. Henry Fortier, diocesan secretary of education and superintendent of Catholic schools, accompanied Bishop Noonan on the trip.
Pictured left: Bishop Noonan and some the children of the Dominican Republic.
Bishop Noonan began regular trips to our sister diocese in 2011 and has seen the Light of Christ shine brighter in the people he encounters.
"Every time I go there, I see growth in the people. You see how their lives have changed just by making their lives easier. Some have running water, some have new homes. That gives them a sense of hope. To enkindle a deeper faith you first of all need hope," he said.
This hope brings a new sense of purpose and faith.
"They also are helping one another. We don't build all of the houses. We build a few and show them how to build it, and then it is up to them to help their neighbor. The fact that they are helping one another is the real enkindling of deeper faith. They have a sense for caring for the less fortunate even among their own," said Bishop Noonan.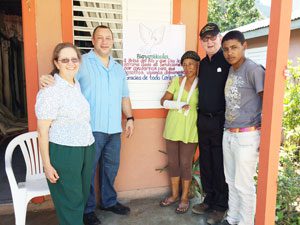 For more than 30 years, priests, religious sisters and brothers, as well as laity have been serving the spiritual and physical needs of our brothers and sisters in San Juan de la Maguana. Leading this ministry today are Father Fred Ruse and Ursuline Sister Bernadette Mackay, director of the Mission Office.
Pictured right: Sister Bernie Mackay, Henry Fortier, and Bishop Noonan with friends and parishoners of the Dominican Republic.
"By God's call, I and the Diocese of Orlando offer a service," Father Ruse said. "For me, it is the service of priesthood, a service of leading by offering, offering myself, offering the diocese, offering the Lord; and, at the same time, a service of receiving the offering of those we live with here in these mountains. That, too, is powerful!"
"The Church is these people's best and most trusted friend," he continued. "This is our 'pastoral' presence — a word, which in Spanish, speaks of caring for another."
Father Ruse said communion and companionship are at the root of the sacramental life of his ministry. "Pastoral life for me means placing the graced life at the disposal of life," he said. "Here that happens through the sacraments. And, as the sacraments are rooted in Jesus touching our lives, those sacraments are always about abundance, fullness, and completeness."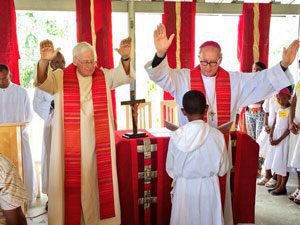 Father Ruse celebrates Sunday Mass every weekend in five different towns, which can be a challenge because the communities are scattered across a mountain range.
In January, Deacon Israel Colón of St. Augustine Parish in Casselberry and Deacon Carlos Solá of St. James Cathedral in Orlando spent two weeks in the Dominican Republic to be immersed in the culture there. They are helping to determine the best way to establish a catechist-training program. The hope is that priests, deacons and laity from the Diocese of Orlando would train men and women in the Dominican Republic to teach the Catholic faith to children. While still in its infancy, their findings are being reviewed so that a plan can be formulated.
Pictured: Father Fred Ruse and Bishop Noonan celebrate Mass in the Sister Diocese in the Dominican Republic.
Bishop Noonan said he was touched by the depth of gratitude of the faithful there.
"Their simplicity of life and gratitude are amazing," Bishop Noonan said. "In one area we were in, one lady who was given a house a few years ago had a sign thanking the Diocese of Orlando for the gift of a home so that she could take care of her family and live with dignity.
"It was all written in Spanish and it was beautiful," he continued. "Here is this lady who learned to read and to write and now was able to thank us. That is very nice."