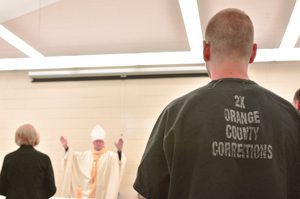 Bishop John Noonan celebrated Mass at the Orange County Correctional Facility on Friday, April 5th and brought a message of hope, healing, and forgiveness to the inmates. Bishop Noonan's visit is significant because it marks the first time he has celebrated Mass at a county jail. Previously, Bishop Noonan has celebrated Mass at several state prisons.
"Bishop Noonan has a heart for prison ministry," said Deacon David Gray, who oversees Ministry to the Incarcerated for the Diocese of Orlando. "We met with county officials and chaplains a few months ago, and they are very encouraged to have a Catholic presence at the Orange County Correctional Facility. The Bishop's presence encourages those incarcerated to follow the Gospel values and change their lives."
The Diocese of Orlando Ministry to the Incarcerated has a presence at 32 different prison/jail institutions throughout the nine counties of the Diocese of Orlando. In Matthew's Gospel, Jesus Christ asks his followers to visit and care for prisoners and others who are the "least" among us.
The Diocese of Orlando has 180 volunteers involved in the Ministry to the Incarcerated. Volunteers give out bibles, rosaries and prayer cards and lead bible studies and prayer services. The Diocese of Orlando's Ministry to the Incarcerated is focused on bringing the Catholic faith into jails and prisons around the diocese and having ministers involved in all aspects of prison ministry, including visiting facilities, supporting families, developing re-entry programs and fostering community.
This ministry is an outreach of the Diocese of Orlando vision to teach and live the light of Christ Jesus.