As Central Florida gets ready for a possible direct hit from Hurricane Dorian, the Emergency Operations Center created by the Diocese of Orlando and Catholic Charities of Central Florida in June 2018 is activating possible distribution sites while monitoring the storm's intensification and path.
"My sisters and brothers in Christ, as we prepare for the coming of Hurricane Dorian, I pray with you for the care and safety of each other," said Bishop John Noonan. "I thank you for your outreach to those who are in situations of vulnerability."
Gary Tester, President of Catholic Charities noted, "Should the hurricane hit the diocese, we have a network of potential emergency food and water distribution locations." In the meantime, websites of the Diocese of Orlando (orlandodiocese.org) and Catholic Charities (cflcc.org) will provide online updates including shelter locations and sandbag distribution centers.
In an ongoing commitment to support local communities, this faith-based Emergency Operations Center (EOC) launched in 2018. The EOC works with parishes throughout the Diocese of Orlando's nine counties, to assist with disaster preparation, response and recovery. The idea for this ministry began to develop after the 2016 Pulse Nightclub shootings and continued through Hurricanes Matthew, Irma and Maria. The EOC works in collaboration with other agencies to provide food assistance as well as other ministries as needed.
Following Hurricane Irma in 2017, volunteers from various agencies including the Society of St. Vincent de Paul, Knights of Columbus and Council of Catholic Women assisted with distribution of food, clothing, welfare assistance and other social services. Parishes also provided comfort stations, giving people a chance to socialize and have access to air conditioning after the storms. More than 20 parishes served as emergency distribution centers.
Family Stability Program Director, Heather Knoop, notes, "Activation of sites is based on where the need is." Although there are more than 20 distribution sites at the ready, only those sites in affected regions will be mobilized after a crisis.
In a recent disaster relief training, Knoop suggested a family preparedness plan that includes assignments of roles for both children and adults. She says looking ahead helps children know what to expect and minimizes fear. Families should also gather important supplies including medication and protect important documents (wills, insurance policies, financial records) in water-proof containers. Knoop also suggests mapping out evacuation plans and signing up for county alerts where you live.
Quoting Phil 4:6, Tester said, "Be anxious for nothing, but in everything by prayer and supplication with thanksgiving let your requests be made known to God." He added, "This is essential. We want to encourage people. It is human nature to be anxious and to worry. Preparedness helps us to manage that worry. That preparedness, along with trust in God, helps us to manage our emotions better."
Bishop Noonan asks the faithful to follow instructions from emergency operations officials and law enforcement regarding traveling. Should emergency operation officials declare it is unsafe to be outside, the requirement to participate in the celebration of Sunday Mass will be dispensed.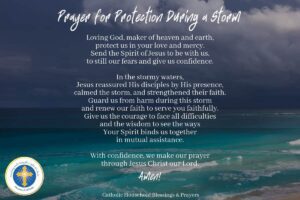 Click here for sandbag/shelter location information.
For more information, you may contact Catholic Charities of Central Florida at 407-658-1818.
By Glenda Meekins of the Florida Catholic August 28, 2019