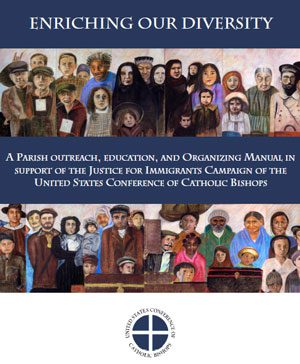 On January 14, after praying the Angelus, the Pope recalled that the date marks the World Day of Migrants and Refugees and, in his annual message for the occasion, compared immigration to "a pilgrimage of faith and hope".
"Those who leave their lands," he emphasized, "do so because they hope for a better future, but also because they trust in God Who guides the steps of the human being, as He did with Abraham. In this way immigrants are bearers of faith and hope to the world. Today I greet each one of them with a special prayer and blessing."
In his greetings in French, the Pope repeated this theme, expressing the desire that immigrants and their families, wherever they gather, "be welcomed and assisted so that they might have a dignified existence. Like Jesus," he urged, "we must be near to those who suffer and who have no voice of their own to make themselves heard."
Now Is the Time for Congress to Pass Just and Compassionate Federal Immigration Reform
Send an electronic postcard to your U.S. Senators and Representative
Catholics have a responsibility to help immigrants integrate in ways that are respectful, culturally sensitive and responsive to social needs. We also recognize the ongoing need for comprehensive and humane immigration reform at the federal level. "Regardless of their legal status, migrants, like all persons, possess inherent human dignity which should be respected. Government policies that respect the basic human rights of the undocumented are necessary." (Strangers No Longer: Together on the Journey of Hope, 2003, No. 38)
Justice for Immigrants, the U.S. Conference of Catholic Bishops' campaign for immigration reform, has launched a postcard campaign that calls on the current Congress to enact a fair and comprehensive solution to our nation's broken immigration system. You can easily participate in the campaign by sending free, electronic postcards to your U.S. Senators and Representative asking that they pass legislation that provides a legal path to citizenship for undocumented immigrants and for low-skilled laborers to work in the U.S., keeps immigrant families together, restores just enforcement policies, and addresses the root causes of migration.
Please visit www.justiceforimmigrants.org to quickly and easily send your postcards.