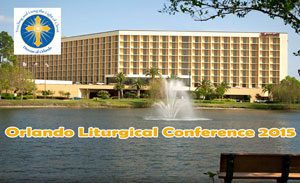 We are currently in the planning phase for the Orlando Liturgical Conference to be held at the Orlando Airport Marriott, August 20, 21, and 22, 2015. As part of the planning process we are inviting all colleagues in our diocese who are involved in liturgical leadership (including liturgy directors, music directors and associates/assistants, ethnic choir directors, liturgical ministry coordinators, and clergy) to attend a visioning/input meeting. The goal of this meeting will be to articulate the liturgical needs of our diocese as well as surface issues surrounding the liturgical life of our parishes. This will be accomplished through table and group discussion moderated by a facilitator.
Please accept this invitation to be a part of this process. The meeting will take place in the courtroom at the Chancery on Tuesday, April 1 from 9:30am-12:30pm.
Please RSVP to Aaron Kohl via email akohl@orlandodiocese.org on or before Wednesday, March 26, 2014.
Preparation materials and a parking pass will be distributed via email. Please make every effort to attend so that our programming may address the needs you have in your parish setting. If you are unable to attend, you are highly encouraged to send a representative on your behalf to ensure that all ideas are surfaced.