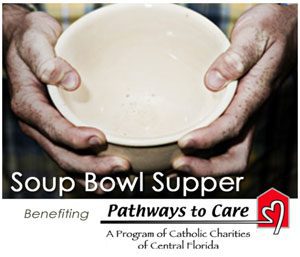 Gourmet soups prepared by local chefs, live entertainment, silent and live auctions, celebrity speaker and an entertaining emcee are all on the menu during the Inaugural Soup Bowl Supper to benefit Pathways to Care which will be held Friday, October 11, 2013 in the Life Center at St. Mary Magdalen Catholic Church, 861 Maitland Avenue in Altamonte Springs beginning at 7:00 pm. The evening will feature Scott Maxwell, Sr. Columnist for Orlando Sentinel as the keynote speaker.
Tickets and sponsorships are available at www.soupbowlsupper.org or by calling 407-388-0245. Each reservation purchased provides 24-hour care for a client at the respite center for homeless adults. Attendees will make a difference while enjoying a memorable evening.
While observing World Homeless Day, 2013, the event will be hosted by radio morning show host Ellis Feaster from Z 88.3. Guest speakers will include Bishop John Noonan, Dioceses of Orlando and Dawn Zinger, Administrator of Pathways to Care. Plus attendees will hear from two very special guests: former residents of the facility who are now an inspiration to others.
Pathways to Care is a program of Catholic Charities of Central Florida that is dedicated to providing health, housing and hope to Central Florida's most vulnerable homeless population. Last year alone – over 200 clients were served and 57,600 pounds of food was prepared. This nonprofit 501(C) (3) organization provides short-term recuperative care and support services for homeless individuals in need of temporary housing while recovering from an acute medical illness or injury. As a licensed assisted living facility, Pathways to Care is focused on helping their residents achieve greater health, self-sufficiency and housing stability.
Catholic Charities of Central Florida is the largest non-profit social service organization in Central Florida. Their mission is to provide vital social services for people in need regardless of their religious, social, or economic background, to improve lives of individuals, families and the community. These social services include emergency financial assistance, food, medical and dental care, transitional housing, and affordable housing programs.