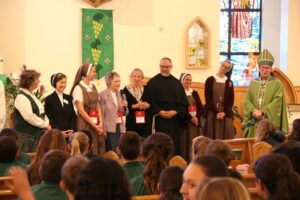 In a time when the noise and busyness of the world gets in the way of time set aside to grow in faith, hearing God's call is getting harder than ever. To enable youth to hear that call, this year Focus 11, an annual diocesan vocations awareness event, offered almost 600 students the opportunity to learn about vocations to religious life, the priesthood and marriage and how to discern to which one God is calling them. The two-day event was held Feb. 14-15 at Holy Family Parish in Orlando.
Students made rosaries, participated in a scavenger hunt and listened to vocation stories. Each day began with Mass, reminding them that Christ accompanies them in this journey and created each person with a particular vocation in mind.
Bishop John Noonan pointed to the question Jesus asked the blind man in Mark 8, "Do you really want to see?" This is the key, explained Bishop Noonan. "It's the same with us," he said. "Sometimes we don't want to see. And Jesus is encouraging us to see the truth." He referred to the difficulties people have letting go of personal plans in order to follow the truth in which Jesus wants everyone to share and live.
Referring to the story of Noah he said, "God asked Noah to build an ark. This was a monumental task, but God helped him. Noah was open to God's help and guidance. Sometimes God asks great things of us and we are afraid."
Father Josh Swallows, parochial vicar of Annunciation Catholic Church, related his experience. "There was this part of my calling that's attractive and terrifying." Through prayer and discernment, he was able to come to terms with it and overcome his fears.
The day was spent unpacking those two precepts: truly wanting Truth to be revealed and then having the trust to surrender and embrace God's will for our vocation.
The panel of sisters, priests and seminarians' vocation stories was as diverse as squares on a patchwork quilt. From Servant of the Pierced Hearts of Jesus and Mary Sister Rachel Gosda hearing an inner voice that would not rest to God's helping Third Order Regular Franciscan Father Anthony Aarons find a coconut, leading to his discovery that God answers prayers— each witness was a testament to God's desire to meet us where we are.
Speaking for the call to marriage, Regina and Dan Boyd shared the story of their courtship and how God revealed his will for them. Their journey led them to a long period of patient waiting, discernment and prayer before they embraced God's will.
"It's all very personal for each individual," said Servant of the Pierced Hearts of Jesus and Mary Sister Christine Hernandez. "For me, I was working in my car and I felt a voice, way above me telling me, 'You should be nun.' It was a strong voice, not a scary voice. And I knew that it was something bigger than me, outside of me because I had never thought of it. I didn't even know nuns existed."
Everyone agreed that discerning their vocation required asking God what He wanted for them. Father Benjamin Lehnertz, parochial vicar of Holy Family Catholic Church, said, "When I did, I started asking: Lord, help me to want what you want. Help me to desire what you desire. Help me to choose what you choose. And that is when I started to be drawn with a desire to the priesthood."
Daniel, a sixth grade student from Holy Family Catholic School said what most impressed him was, "What they (religious) actually go through to achieve this beautiful thing and that they can do this all through trusting in God."
His take away was, "God will do anything for you, from really big things to small things, like just giving you a coconut. It helps me listen more to God instead of what I want to do. I learned to pray to God before I make a big decision that might impact peoples' lives."
In closing, Father Swallows said, "We are all called to follow Jesus in a radical way, no matter what your vocation is. How do you want to give your life?"