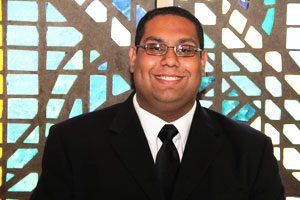 This summer, seminarians from the Diocese of Orlando had the opportunity to grow in God's love and grace. Luis Nieves, first year theologian at St. Vincent de Paul Regional Seminary in Boynton Beach, shares his experience of ministering to the people of our sister diocese in the Dominican Republic.
"I had the opportunity to be at the mission in our sister diocese in the Dominican Republic for the month of June. During my stay there I went to different communities in the mountains where the mission serves to train altar servers and lectors, teach confirmation classes and even lead communion services when a priest was not available for Mass.
"There was a lot of pastoral work to do in the mission. To get to these communities we either walked or rode on a mule. It was definitely a new experience, but one that I am very fortunate to have had.
"My time in the Dominican Republic taught me many things. It was an incredibly humbling experience. In a parish, you experience the love of the people for their seminarians and their priests. Up in the mountain, you experience that love in such a deep and profound way. The people don't have much, but they give you everything they have when they pour out their hearts and souls to you.
"This experience has changed the way I see the priesthood and has definitely taught me some lessons in humility, dependence on God and formation. It gave me the encouragement to face anything for the sake of the Lord and his people.
"My prayer has changed since this experience. I am starting to express my gratitude to God for my vocation to strengthen, encourage and serve His people. There is nothing I would rather do than serve God's people now and, God willing, in the future as a priest."