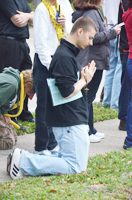 Bishop John Noonan will celebrate a Helpers Mass at St. Mary Magdalen Catholic Church in Altamonte Springs on Saturday, December 1, at 8 a.m. to pray for the conversion of hearts and the salvation of souls. The Mass will be followed by a Rosary procession to a nearby abortion facility where participants will pray for the protection of the innocent unborn, healing for the mothers and fathers, and for the conversion of staff.
The Mass and the Rosary procession are part of a worldwide pro-life effort started by the apostolate of the Helpers of God's Precious Infants, which was founded by Monsignor Philip Reilly from the diocese of Brooklyn, New York, in 1989.
Around the world, there are about 60 bishops and several cardinals who lead regular prayer vigils outside abortion facilities. The Diocese of Orlando offers Helpers Masses several times a year. For more information, contact the Office of Advocacy and Justice, 407-246-4819.