Join Father Anthony Aarons, Chaplain of Bishop Moore Catholic High School and Catholic Charities of Central Florida, for an 11 day pilgrimage through Italy, Switzerland, Austria and Germany in August 2020 featuring a once-in-a-decade opportunity to see the Passion Play.
Learn more about the trip at the on Oct. 30, 2018 at 7 p.m. in the St. James Cathedral Social Hall (215 N. Orange Ave, Orlando, FL 32801). Please call Tammy Osborne 407-373-0075 to RSVP for this presentation.
About the Trip
August 9-20, 2020
Single: $9,049
Double: $7,349
*Tickets include round trip air from Orlando Intl Airport, air taxes and fees/surcharges, hotel transfers. All rates are per person and are subject to change.
Highlights include: Lago Maggiore, Island Dinner, Zermatt, Glacier Express Train, St. Moritz, Innsbruck, Salzburg, St. Peter's Restaurant, Mozart Dinner Concert, Munich, Oberammergau Passion Play, Linderhof Palace, Füssen, Neuschwanstein Castle
Click here for more info about this trip. To book this trip, call Collette (travel company) at 800-581-8942. Reference number for booking: #913959.
About the Passion Play
Oberammergau was suffering from the Bubonic Plague. The surviving villagers appealed for Divine intervention to save their families. They vowed that if God were to spare them, they would perform a Passion Play every ten years. They say not a single person fell victim to the Plague after that. Keeping their promise, the people of Oberammergau performed the first play in 1634 and have continued to do so throughout the centuries.
Today, many of Oberammergau's residents still take part in this powerful work of art featuring dramatic performances, beautiful music and choral accompaniment.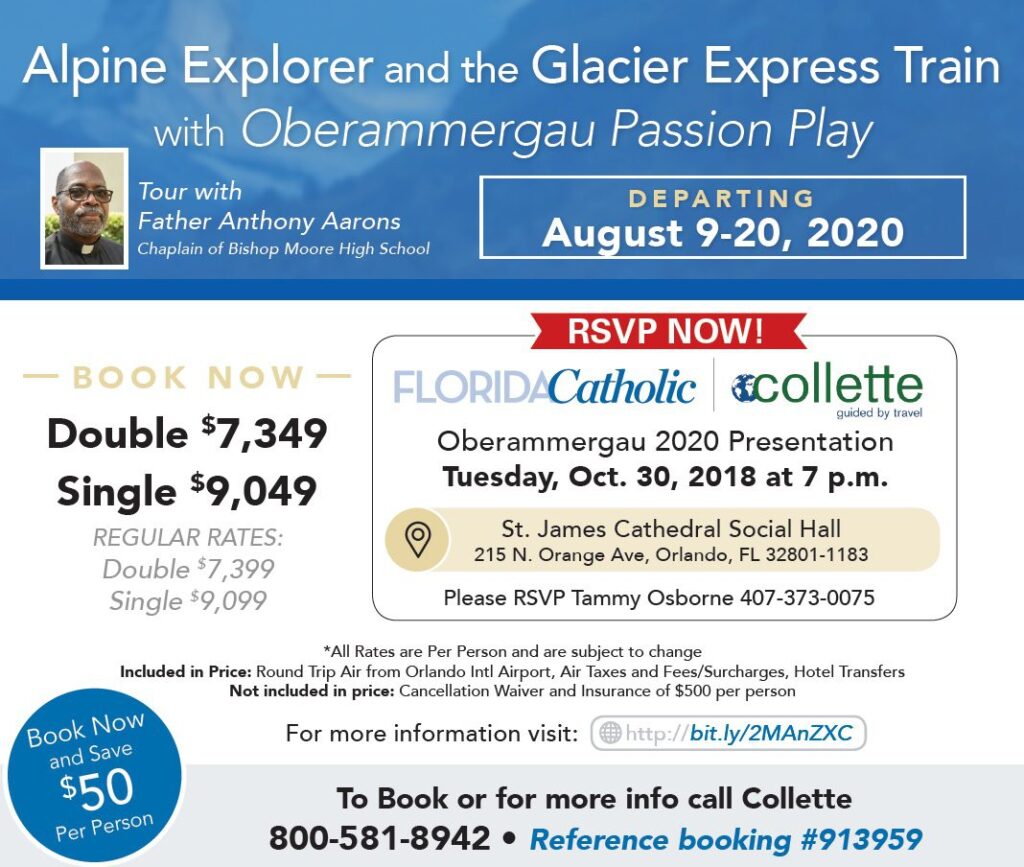 October 24, 2018