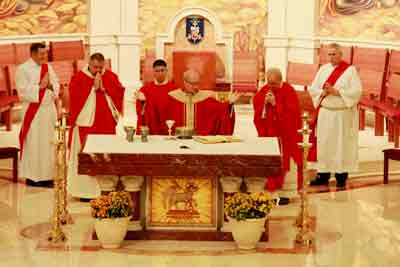 St. James Cathedral in Orlando was filled with people clothed in red, present to pray for and support those in the legislature and the legal profession during the Red Mass on Nov. 10, coordinated by the Catholic Lawyers Guild of Central Florida.
In a stirring homily, Bishop John Noonan reminded those gathered that after the noise and clamor of the elections, "One thing is left with us and that is that democracy works." He reflected on the gift of democracy and likened judicial leaders, our judges, lawyers and our legal professionals to our forefathers who fought for the rights of this nation.
He spoke to them directly praying that the Holy Spirit inspire them and quoted the words of Pope Francis in his address to canon lawyers at Christmas a few years ago: "You are to serve, not to become bureaucratic but to serve the truth, justice and the people that have been entrusted to you. You are to respect the gift of holiness, a heart open to God and his wisdom. To pray constantly, but have deep humility and above all, to have fraternal charity to those whom you live with, work with and govern."
The Catholic Lawyers Guild strives to live up to these words of the Holy Father. Their mission as lay Catholics is to focus on prayer, study, generosity and evangelization to help members integrate and further the Catholic faith of its members in their chosen profession.
In today's secular world, this is not an easy task. Personal injury attorney and guild member, Robert Dellecker said he credits his ability to remain true to his profession and faith to his family and those by whom he is surrounded.
"I have been so blessed to be surrounded by incredible people. And it started with faith," said Dellecker.
The seeds of that faith lie in the Episcopalian values with which he was raised. "I have been surrounded my whole life with people who walk the walk. They didn't just do the talk and that sunk in," he said.
His wife, Barbara, who is Catholic, introduced him to Father John McCormick, an associate pastor of St. James Cathedral at the time. Father McCormick, who died last month, had a profound effect on Dellecker in the way he poured out his life for others and shared his time and faith so joyfully.
His close friendship with Father McCormick and the time he took to answer questions and task him with seeking truth, led Dellecker to become Catholic in 1986.
"He came into my life at the perfect time," said Dellecker. "When you're a young lawyer and you're full of all that vinegar, he helped refine that."
For Dellecker, the choice to become a personal injury attorney was easy. In going through memorabilia recently, he came across a piece of paper in which he had written "lawyear" at age five. His mother had saved it. His other great love is science. His practice is a marriage of the two, led by his fervent faith.
Dellecker was the recipient of the St. Thomas More Award presented by the Catholic Lawyers Guild in an awards ceremony following the Red Mass for his charitable works and the way in which he witnesses the light of Christ in his practice. He humbly downplays the significance of his actions. When asked about the long list of charities he supports and is committed to helping, he said, "It's just what you're supposed to do."
Of his clients, he remarked, "They have taught me an awful lot more than I could have learned anywhere else."  He added, "Everyday you're dealing with some really hard issues, but you are given the rare opportunity to practice the most human law you can imagine and impact people in that fashion. When you do it in a real capacity and you do it quietly, the blessings really do flow."
The Catholic Lawyers Guild also recognized The Christian Sharing Center in Longwood and its president Angie Romagosa with the St. Martin de Porres award for outstanding commitment to providing resources to those in need while ensuring dignity and reflecting Christian generosity while sharing God's love.