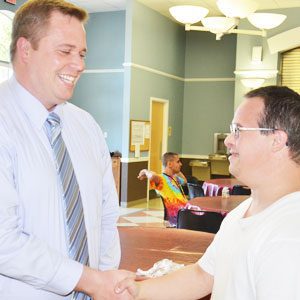 As Kevin Johnson (pictured left with a Bishop Grady Villas resident) walked into the social hall of the Bishop Grady Villas campus, he was quickly surrounded by residents who were eager to share stories about their day.
"I love Kevin Johnson," said Jose, one of the residents. "I hang out with him all the time and joke with him. He will be in my heart forever."
This is a regular occurrence for Johnson, executive director of Bishop Grady Villas, a residential community that supports persons with disabilities to use their God-given gifts to achieve greater independence, physical and emotional well-being, and spiritual growth.
"They celebrate the little things," Johnson said. "If I haven't been to Dorsey Hall for a couple days and I come in, everybody erupts into applause and makes everyone feel excited to be there. I think that it's the spirit of welcoming and love and friendship that I learn the most from them."
Johnson is celebrating his 10th year on the Bishop Grady Villas staff. Originally from Big Rock, Ill., Johnson graduated from Calvin College in Grand Rapids, Mich., with a major in psychology and minor in Spanish. He became Catholic while in college.
Following graduation from Calvin College, Johnson and his wife, Amanda, planned to volunteer for a year before pursuing their master's degrees. While searching for volunteer opportunities, they came across Catholic Volunteers in Florida. They applied with the organization, and were assigned to a program in south Florida, serving adults with intellectual and developmental disabilities in a home group setting.
After two years in south Florida, Johnson accepted a position as resident/staff development director at Bishop Grady Villas, in 2004. He supervised the assisted living community and provided employment services to residents, helping them to acquire competitive employment. He was appointed executive director in 2008.
Bishop Grady Villas has grown significantly under Johnson's leadership. Currently, there are 48 residents in six residential villas. When Johnson became executive director, there were only 22 residents.
The organization expanded its services in 2008 to include Employment Services. More recently, Johnson established a program called Discovery, a vocation rehabilitation program that helps each person discover their abilities and skills.
"It focuses on what they can do," Johnson said. "It has a much more person-centered focus and is much more affirming to the person."
He also said he anticipates Bishop Grady Villas will expand to meet a growing need, such as adding more residences. He also hopes to add new programs for people who live off-campus, such as skill development for budgeting and grocery shopping.
"I see myself as a servant leader, as somebody who's here to serve," Johnson said. "I reflect on the mission of the Church and why we are here. We're not just here to give people jobs; we're here to help the people we serve share the gifts they've been given by God. As a leader in Christ, I am to participate in that mission of the Church and to humbly serve and share my gifts with others."
Johnson has been honored for those gifts several times. Bishop Grady Villas has been named one of Central Florida's 25 largest nonprofit organizations. In 2011, Johnson was named the Florida Assisted Living Association's Assisted Living Administrator of the Year. In February, Johnson was presented the O'Neill Alumni Service Award for his dedication to Catholic Volunteers in Florida.
Johnson said he has grown in many ways since joining Bishop Grady Villas.
"The opportunity to serve at Bishop Grady Villas is something that always challenges you," Johnson said. "Our residents teach us so much about faith and trust and friendship. Being part of the community and experiencing the love that exists here just reminds me of the connection we all have to Christ.
"Being part of a Catholic community in particular is a blessing, because we can share that faith," he said. "To have that core mission of the Church – to serve the poorest of the poor and to be united through Christ –is such a blessing, and in many ways is empowering."
Johnson and his family are members of Corpus Christi Catholic Church in Celebration.