ORLANDO | In the one-hundred years since Knights of Columbus Monsignor Bishop Council 2112 was founded, members have seen Central Florida grow from orange groves and country roads to a bustling tourist destination and the launch pad of a national space program. They've lived through the Great Depression and the Second World War. They experienced firsthand the changes brought by the Second Vatican Council and were there when the first bishop came to the newly formed Diocese of Orlando. Through decades of growth and change, war and peace, one thing remained constant: the knights' unwavering commitment to their principles of charity, unity, fraternity and patriotism.
"The Knights of Columbus bring a visibility to the Church in society and are firm in their purpose," said Missionary of Our Lady of LaSalette Father Francis Cooney, council chaplain. "They give Catholic men a place to be of service to each other and the community. Not only are they active in their parishes, but they are a Christian witness to the world."
The Knights of Columbus was founded in 1882 by Venerable Father Michael J. McGivney who saw the need for Catholic men to have a place where they could remain steadfast in their faith while establishing a system that would support families left fatherless. To show that allegiance to their country did not conflict with allegiance to their faith, the organization was named for Christopher Columbus —a Catholic and celebrated as the discoverer of America. Today, the Knights have become the world's largest Catholic fraternal organization with nearly 2 million members and 15,000 councils worldwide. 66 of those councils serve within the Diocese of Orlando, with Council 2112 being one of the earliest established groups, growing from 42 pioneer members to 380 members today. The council serves the parishes of Sts. Peter and Paul and St. Margaret Mary in Winter Park and Good Shepherd and St. Joseph and St. Maximilian Kolbe in Orlando.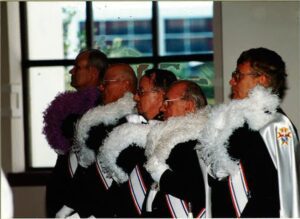 "The knights brought me a sense of belonging to a community of like-minded Catholic Christians interested in charity as well as a unified team to work on projects – spiritual growth, protecting life and helping those in need," said Larry Jorash, Grand Knight of Council 2112. "They also provide a fraternity to enjoy together some laughter and some fun. The knights today are committed to helping in the community beyond the church walls as well as working within the parish on local church projects as requested by the parish leadership."
Knights of Columbus across the diocese may be most recognizable by their distinctive honor guards, lending reverence and dignity to liturgical celebrations, but knights are also constantly working behind the scenes, showing love for their neighbor and their Church by countless acts of service and prayer. Knights wake up early each day to deliver bread to area food pantries. They are a peaceful presence praying outside abortion clinics. They provide opportunities for fellowship at parish fish fries and Easter egg hunts. They also engage young people in their faith through essay and poster challenges and sports competitions. Donations and volunteer hours by Knights of Columbus councils support seminarians on their journey to priesthood, help athletes participate in the Special Olympics, welcome refugees to their new home and provide life-saving ultrasound machines to crisis pregnancy centers. The men who make up the Knights of Columbus recognize their mission and faith compel them to action.
"I've been in the knights for almost nine years. I decided it would be a good opportunity to learn more about my faith and be a better Catholic man, husband, father and grandfather," said Wiley Boland, former Grand Knight of Council 2112. "It was also a chance to give back to the community. I got involved in some of the hands-on charity work and helped organize and support events. As a knight, I try to be the example of how to work with pride, be reverent, have a lot of fun."
As Monsignor Bishop Council celebrates their 100th anniversary, it is a chance to reflect on the many contributions the Diocese of Orlando's Knights of Columbus councils have made to their Church and community over the last several decades. Membership continues to grow and the faithful can be sure to rely on their dedication for many more decades to come. Wherever there is a need for heartfelt evangelization, spiritual comfort or compassionate service, a Knight of Columbus is sure to be there.
For information about joining the Knights of Columbus, visit www.kofc.org
Special to Elizabeth Wilson from The Florida Catholic