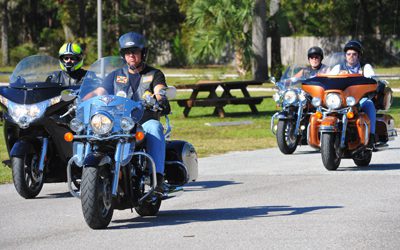 As Jim Clark strapped on his open-faced helmet and pulled his gloves tight Oct. 19, he was preparing to join thousands of motorcyclists who converge on the Daytona Beach area for the annual Biketoberfest.
Biketoberfest is one of two major motorcycle events held annually in and around Daytona Beach. Motorcycle enthusiasts, from Florida and around the U.S., flock to the area every March and October to enjoy scenic rides in warm climates, and see the latest motorcycles and gear.
Clark is one of the locals. A parishioner at St. Margaret Mary Catholic Church in Winter Park, Clark has been riding motorcycles for more than 25 years, and participates in many of the biannual motorcycle festivities.
This Saturday morning ride was different, in part, because it is formed around ministry. Clark, a fourth-degree Knight of Columbus, joined other Christians in a ride from Port Orange to Deland to New Smyrna Beach. Their ride involved more than just the screaming sound of engines, two-wheeled vehicles and the open road – it also focused on prayer, Scripture and fellowship. It brought about an opportunity to tell Christians of other denominations about the Knights of Columbus and their responsibility and duty to God and others.
"We're getting together with other Christians who believe in spreading the Word (of God)," Clark said, "and I think it's a nice synergy. This is another activity that unifies all of us as Christians."
The gloves and helmet, as well as leather vest, jeans and riding boots, are of major contrast to the colorful regalia Clark and other Knights of Columbus are known for wearing – the tux, cape and hat, which is made of ostrich feathers. The biker image, Clark acknowledged, isn't an image most people would associate with the Knights of Columbus. But Clark said it is another form of outreach ministry for Knights of Columbus who choose to use their motorcycling hobby as a means to do charitable work and serve God and others.
Clark established in September a local chapter of Knights on Bikes, a national organization dedicated to Knights of Columbus who own or ride motorcycles. The organization was formed in Fort Worth, Texas, and currently has chapters across the U.S., Canada and the Philippines. The organization's worldwide chaplain is Archbishop Thomas Wenski of Miami, former bishop of the Diocese of Orlando, well-known for riding his Harley-Davidson motorcycle and blessing bikes and bikers.
To participate as a Knight on Bike, one must be a member of the Knights of Columbus and own a motorcycle or anticipate owning a motorcycle in the next six months. According to the national chapter's website, the rewards of Knights on Bikes are enjoying camaraderie with brothers of all councils; riding in parades; and raising money for the needy.
Clark said the Diocese of Orlando chapter already has 10 members. Many members are from Council 2112, which encompasses five parishes in Orlando, Winter Park and Altamonte Springs.
Charity is of the core principles of the Knights of Columbus. "The premise is that we're continuing the ministry and the service work that we do through Knights of Columbus, and using our motorcycle hobby and enthusiasm to carry that ministry to a different crowd and to different places," said Clark, whose Council also supports Catholic Charities of Central Florida and hosts an annual Tootsie Roll drive to help those in need.
The other core principles of the Knights of Columbus are unity, fraternity and patriotism, all of which carry over into the motorcycle world, said Rob Wojerski, past grand knight of Council 2112 and parishioner of Sts. Peter and Paul Catholic Church in Winter Park.
"With unity, we're bringing people together," said Wojerski, who has been riding motorcycles for seven years. "The fraternity is a group of people, a sense of brotherhood. With patriotism, we support the American flag and our country. You see that with many motorcyclists as well."
Wojerski said the Knights of Bikes is also an opportunity to bring awareness to both the Knights of Columbus and motorcycling.
"A lot of people recognize the Knights of Columbus as the color corps – those who are in the capes with the swords," he said. "But we're a little more than just that aspect.
"In terms of motorcycling, you've got a lot of different clubs, and a lot of them may have bad names or bad reputations. For Knights on Bikes, we're trying to change that image."
Traig Kaszyk, a member of St. Joseph Catholic Church in Jacksonville, part of the Diocese of St. Augustine, joined the group during the ride. He said he is trying to start a chapter for his Diocese, and said the chapter would help many Knights during their faith journey.
"Christ wants to be a part of every aspect of our lives," Kaszyk said. "Riding is a part of my life. Christ expects me to bring him in."