ORLANDO | Hurricane season has arrived and summer storms have begun to wreak havoc. Among the places hit was St. Ignatius Kim Mission, a Korean parish south of downtown Orlando, Saturday night, June 7 around 8 p.m.
According to parish general manger Helena Kim, Father Kim Jongjoo, the mission's pastor, was preparing the Saturday Vigil Mass when he heard the winds and then a sudden crash as a tree smashed down next to the rectory, taking out a power line. He found his carport had also flown off. The event left the rectory with no power for two days. Thankfully, no one was injured. The church surprisingly did not lose power, allowing the liturgy to continue as scheduled.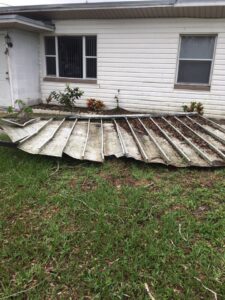 The EF-0 (winds between 65-85 mph) tornado began around Washington St. downtown and headed south to Lake Conway. Jordan Dalrymple of Safety and Risk Management at the Diocese of Orlando, sprang into action Monday morning, to see how he could be of assistance. The Building and Design team at the diocese is also working with the parish. Both departments are answering the call of Gal 6:2 to "Bear one another's burdens, and so fulfill the law of Christ."
Understanding the desire of staff and volunteer parishioners to immediately clean up damage after an incident, Dalrymple encouraged all parish staff to first report the claim to insurance and then allow the diocese's restoration contractor to clear debris safely. Dalrymple noted, cleanup is the "hardest part to manage after a storm because volunteers and parishioners want to get out and serve, but we want to keep people safe. Please do not get staff and volunteers out there to start cleaning up. We don't know if there's a live power line down or some other danger."
Dalrymple assured, "Risk management is here to serve parishes within all avenues of their operations related to hurricane prep, worker safety, security, and insurance needs to help mitigate risk and provide safe and secure facilities for our communities. We want to make the process as easy as we can. The faster we know, the faster we can help with the process of cleaning and repairing."
The parish is already working with local contractors to restore the property and the faithful are thankful to God that worship had not been interrupted.
By Glenda Meekins of the Florida Catholic, June 10, 2020