ORLANDO | "(Lazarus Ministry is) awesome," says Matthew Armstrong, with noticeable levity in his voice. "They bring us clothes, food, baby wipes. They send us stuff to help us with the virus – hand sanitizer, paper towels, toilet paper. When there was no toilet paper available, they got toilet paper for us."
Armstrong is referring to one of St. Margaret Mary Parish's new outreach services, Lazarus Ministry. Named Lazarus after the parable of the rich man who ignored Lazarus at his door, Tom Gawronski, coordinator for services, explained, "The story of Lazarus is the parable form of Jesus' many admonishments to us that we will be treated in eternity in turn as we treated the least of our brethren in this life." The ministry came to life after the parish worked with the Winter Park Housing Authority and Christian Service Center on a charitable drive little over a year ago to help the residents of extended-stay hotels on Lee Rd. in Orlando. Deacon Scott Lindeman, who oversees outreach at the Winter Park parish, said the event opened their eyes to the plight. "That was a real eye opener," he said. "It hits close to home because so many of the people in our parish drive past these hotels on a regular basis."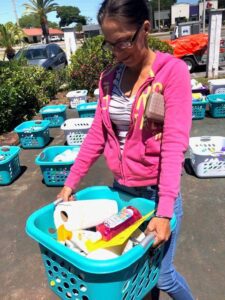 A team of parishioners reviewed the situation, went to the hotels and met with managers, residents, and spoke to schools and churches working to support the hotel residents. "It kind of took a life of its own as we realized the true nature of the conditions these people were living in," said Deacon Lindeman. Thus, Lazarus Ministry was born, to "identify people who are not victims of choice, but victims of circumstance," he explained. "They've lost their homes, their employment, their apartments for whatever reason. They know what they need to do to get themselves out of the situation, but they don't have the resources or ability to get out of the system so they can move forward." The hope is the ministry can help give these individuals a "leg up" to get them into an apartment. He added, "They are hardworking, productive, smart people, but victims of whatever circumstances they've fallen into."
Armstrong, his wife, Patricia, and daughter, Samantha, are one such family. Samantha is 27 years old, and was born with Rett syndrome, an X-chromosome mutation that causes delay in physical aging appearance as well as mental development. Due to this, she is still in diapers, and must be fed and bathed. Armstrong takes it all in stride, saying, "That's okay. That's what God gave her to us for."
But in March 2019, Patricia was bit by a brown recluse spider. She lost half of one foot, went into renal failure, had several mini-strokes, a heart attack, seizures and required several surgeries. Armstrong, who drove a truck for 45 years, was eventually forced to retire to care for his family. Their medical bills mounted to $4.8 million. They lost everything. Until then, the family had travelled together in his truck throughout the nation. "We went everywhere. … to every state in the United States," he recalled nostalgically. "I got to take my wife places we probably would have never seen."
They moved into an extended-stay hotel three months later. "We were hoping it was temporary," he said. "We were going to try and find a mobile home or something, but everything fell apart with the coronavirus." He admits he gets angry occasionally. "Trials and tribulations," he bemoans, recalling the beatitude, "The meek shall inherit the earth."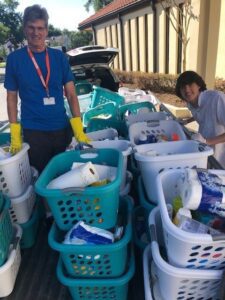 He says, without Lazarus Ministry, "We'd go hungry a couple of days a week." He noted his family receives only $16 per month in food stamps because they make 69 cents too much on social security to qualify for more. "I can't argue with it. I'm just gonna deal with what God gives me and go from there." The last week in April, Lazarus Ministry began providing 50 people, two meals a week, focusing on families with children and the disabled.
Jody Butler is a hotel manager that welcomes the volunteers. "It's been nice to see churches are able to step up and provide some assistance with the shortcomings, providing some food, insight and direction as to where to go to finds some jobs that are currently available – even to have someone to sit and talk to. Sometimes, that's the biggest fundamental – to have somebody to listen. It's been a joyful experience to see there are people who care," he said.
Armstrong would agree. He said often what keeps him going are the regular calls "to make sure I'm doing okay because (they) know what I deal with. …They're awesome people. It's really cool."
Because the hotels are extended-stay, there is no turn-down, cleaning or linen service provided. Residents are required to maintain their own rooms and wash their sheets. In March, after COVID-19 restrictions went into place and cleaning products started flying off shelves, the ministry team asked parishioners to provide cleaning and hygiene supplies. Lazarus Ministry brought in more than 100 baskets, April 1, with much needed resources. "The timing of the program with people needing to maintain a sanitary environment worked out really well," he said. The stay-at-home mandate began two days later.
Deacon Lindeman noted there are hundreds of children living in these hotels, attending local schools, and many schools are geared with providing meal programs. Many residents are "gig workers" who take jobs as they can or are employed in low-wage jobs without benefits. As rooms must be paid for in advance, "several stay for a week, then live in their cars for a time until they can again afford to rent a room.," he said. "Others have lived there for years, but can't save enough for first and last deposits or they have low credit." He added, "They would like to think it's transitional, but in practice it hasn't worked that way." He noted, "The ultimate goals of the ministry is to help it become transitional housing so we can assist these people in getting out of the hotels and into more permanent residences." Deacon Lindeman is the first to admit this is a work-in-progress.
The ministry will continue to work with the Winter Park Housing Authority and Christian Service Center toward a transitional program that leads extended-stay residents to permanent homes. Meanwhile, they meet residents where they are and accompany them in their trials.
By Glenda Meekins of the Florida Catholic May 18, 2020