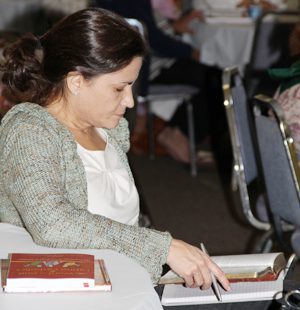 Walt Skinner first experienced Lectio Divina several years ago while visiting Mepkin Abbey in Moncks Corner, South Carolina, with a friend. When he learned a one-day workshop exploring the prayerful and meditative way of reading the Bible was coming to the Diocese of Orlando, he saw the opportunity not only as a means to deepen his own relationship with God, but also that of the parishioners of Nativity Parish in Longwood, where he serves as a permanent deacon.
"During the Year of Faith, and especially this Advent season, I wanted to take time to look at the Scriptures with a different perspective," Deacon Skinner said. "Through my experience at the abbey, I knew Lectio Divina offered a meaningful way of reflecting on the Scriptures and getting closer with the Almighty. I am also hoping to apply what I have learned and experienced in the parish setting."
Deacon Skinner was among the more than 200 Catholics from the diocese who attended the Lectio Divina Seminar, November 17th at Sts. Peter and Paul Catholic Church in Winter Park. Presented by the diocesan offices of Faith Formation and Hispanic Ministries, the workshop introduced participants to the ancient monastic practice of praying with Scripture. One of the initiatives of Second Vatican Council was to expand Lectio Divina by bringing the practice outside the monasteries to the entire People of God.
"I would like in particular to recall and recommend the ancient tradition of Lectio Divina: the diligent reading of Sacred Scripture accompanied by prayer brings about that intimate dialogue in which the person reading hears God who is speaking, and in praying, responds to him with trusting openness of heart. If it is effectively promoted, this practice will bring to the Church – I am convinced of it – a new spiritual springtime," Pope Benedict XVI said.
Part of a national program offered by the American Bible Society, the workshops were presented in Spanish and English by Father Dempsy R. Acosta, a professor of sacred Scripture at the University of St. Thomas in Houston, and Father Esau Garcia, pastor at Holy Cross Parish in Orlando.
As the morning session came to a close, Sts. Peter and Paul parishioner Santa Soto said the program had already renewed her deep love of sacred Scripture. "I have learned how to better interpret the Bible and now I want to tell people to try to read the Bible more," she said. "I want to share the word of God."
"Lectio Divina helps us put God in the center of our hearts," said Tomas Evans, Diocesan Director of Hispanic Ministry. "It offers a means for us to improve our prayer lives and develop a stronger relationship with God. It is not formation nor academic, rather Lectio Divina is a personal encounter with God through sacred Scripture."