For the first time in the Diocese of Orlando, a chapter of the Council of Catholic Women received a Light of Faith Award. The awards are held in union with the annual World Communications Day observed by the Vatican for 50 years. This year's theme is "Communication and Mercy: A Fruitful Encounter."
The Council of Catholic Women at St. Paul Parish in Leesburg received this recognition during the closing Mass of the annual diocesan convention April 25, at the Basilica of the National Shrine of Mary, Queen of the Universe. Bishop John Noonan surprised the women by asking them to come forward at the end of Mass for the special presentation.
St. Paul's Council has been in existence for 96 years, and helps members grow in faith and serve their parish and community. One charitable project in particular caught the attention of the diocese as a great example of harmonizing ministries. It was even written about in the Daily Commercial, Leesburg's daily newspaper.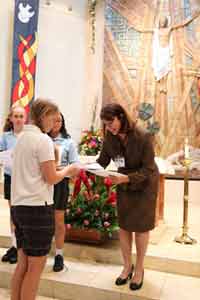 The women made Easter baskets for children in need in their community, and reached out to Catholic Charities of Central Florida, which has an office at their parish. The connection led to an outreach to children who are homeless but find shelter at motels, vehicles and campgrounds. Council members performed the project to let the children know they are cared for and loved.
Led by President Ine Ivey, nine members of the CCW present for the event approached the altar to receive the award. "Our community is not among the wealthiest," said Ivey. "There are over 2,000 homeless children in Lake County. One of our members loves Peeps candy so we made 50 Easter baskets filled with Peeps and other goodies, including booklets explaining the meaning of Easter that we donated to Catholic Charities of Central Florida. We also had so much overage of candy and goodies that we were able to make an additional 10 baskets and gave them to children staying in hotels."
"There it is," Bishop Noonan said. "Love in action. Sometimes we forget it's the small things we do every day that make a big difference."
Now in its seventh year, the Light of Faith Awards recognize ways in which parishes, schools and individuals in the diocese evangelize. In the past, the program had spotlighted best communication practices in the diocese in several categories, including bulletins, newsletters, special publications, brochures and worship aids, video, social media, Web and Internet, campaigns and visual media. Now, the awards committee search for examples of Bishop Noonan's three priorities: enkindling a deeper faith, forming leaders in Christ and harmonizing ministries to the mission of the Church.
"There is so much goodness offered in the Lord's name, in return to the Lord for all that we have been given. The Light of Faith Awards program is not so much about glorifying the people recognized as expressing to all the people the illuminating effect of our evangelization through our constant focus on God. The program speaks to how the good news is proclaimed so that God's light shines for all to see," Bishop Noonan said, describing the awards.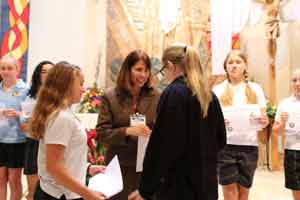 Another Light of Faith Award went to one of the diocese's Ace reporters. Nikole, an eighth-grader at St. Mary Magdalen Catholic School in Altamonte Springs, ranked first place as an ACE reporter. During the school year, she wrote articles for Faith News Online, the diocesan webpage with articles about young people written by young people (www.orlandodiocese.org/faithnews).
"Her articles stood out for both quality of writing and depth of faith," said Teresa Peterson, senior director of communications for the diocese. "She also showed great commitment by submitting articles on a consistent basis."
Nikole wrote stories about how her school is observing the Year of Mercy, students who attended the National Catholic Youth Conference, a student who was baptized at the Easter vigil and a tribute to the memory of Father Ed Thompson and his devotion to the Blessed Mother.
World Communications Day
Another way the Diocese of Orlando observed World Communications Day was by hosting a retreat on May 9 at San Pedro Center attended by more than 70 parish leaders. The retreat leader, Third Order Regular Franciscan Friar Father Anthony Aarons, spoke to participants about the pope's message and the theme for the Jubilee of Mercy, "Merciful like the Father." Father Anthony said every encounter we have with others must bear fruit, the fruit that will last because that's what Jesus speaks about in the Gospel of John 15:1-12.
"Jesus says, 'By this is my Father glorified, that you bear much fruit and become my disciples' and he ends this section saying 'I command you, love one another.' So being merciful like the father is about love. Bearing fruit is about love. That is what we are supposed to be communicating. The message is about love. We can say that a synonym for mercy is love," explained Father Anthony.
Other recognition of those who bring forth Teaching and Living the Light of Christ include:
Catholic Campaign for Human Development Multimedia Youth Arts Contest
First place drawing, Maria Velázquez-Santiago, sophomore at Santa Fe Catholic High School, Lakeland
First place mixed medium, Isabella Mendez, Regan Ritchey, and Laysha Santillan-Perez, St. James Cathedral School, middles school students, St. James Cathedral School, Orlando
First place video poem, Brianna Brasko, Natalie Kelly, Evie McNeally, and Taylor Price, 7th graders, St. Mary Magdalen Catholic School, Altamonte Springs
Three students from the Diocese of Orlando who were recognized with a first place award in the Catholic Campaign for Human Development (CCHD) Multi-Media Youth Arts Contest also received national recognition.
Middle school students Isabella Mendez, Regan Ritchey, and Laysha Santillan-Perez, of St. James Cathedral School received second place in the national competition for their multimedia artwork, "Roots of Poverty," referred to as a "vintage PowerPoint." The students created a scroll displaying artwork and text to describe the root causes of poverty and what systemic changes could be implemented to prevent poverty.
The students will split a $375 cash prize plus Faith in Florida will receive a $375 matching grant and the school will receive a cash prize of $250 from co-sponsor RCL Benziger
Plans are already underway for the 2017 Multimedia Youth Arts Contest. The theme is "Being Neighbors in Our Common Home." Middle and high school social studies, religion and art teachers, homeschool parents and youth leaders or faith formation teachers are invited to participate. The contest engages youth (grades 7-12) in learning about the causes of poverty and our Catholic response. In 2016, the grand prize was $500 and a trip to a national awards event, plus a matching gift of $500 for the winner's CCHD funded group working to fight poverty.
The contest is sponsored by the Catholic Campaign for Human Development (the domestic, anti-poverty program of the U.S. Catholic bishops) and by RCL Benziger. Educators lead participants through 5 easy steps to learn about U.S. poverty, CCHD's response, and the Two Feet of Love in Action. Diocese of Orlando Advocacy and Justice staff members are available to meet with teachers over the summer or during the school year to explain the guidelines and goals of this program. See more at www.usccb.org/about/catholic-campaign-for-human-development/multimedia-youth-contest/index.cfm.
All entries, including registration, short answer questions and signed waivers are due to the Diocese of Orlando Office of Advocacy and Justice no later than March 1, 2017 to be eligible for the contest and prize money. For more information, call 407-658-1818 x 1086 or email ksantalla@orlandodiocese.org or visit www.orlandodiocese.org/ministries-offices/advocacy-and-justice.
Focus 11 Vocations Contest
First place poster by Olivia Vignee, sixth-grader at Resurrection Catholic School, Lakeland
First place video by juniors Sofia Bryant, Samantha Garcia, Mary Kate Etscorn, Alyssa Malto of Bishop Moore Catholic High School, Orlando