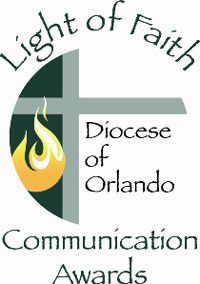 Dear Pastors and All 2013 Light of Faith Participants,
It has been one month since parish and school representatives gathered at the Chancery for the 2013 Light of Faith Awards Ceremony, Communications Expo and Prayer Service.
The purpose of the Light of Faith Program is to share best practices in the areas of communication and evangelization.
To help with this goal, I have included a link to the recipients of the best practice awards that Bishop Noonan distributed on April 23.
https://www.orlandodiocese.org/comm-resources/lightoffaith/comm-lof-best-practice-awards
On this page, you will see the entries that were recognized and read the applications detailing how the entries were created in the following categories:
Category #1 – Bulletins
Category #2 – Newsletters
Category #3 – Special Publications
Category #4 – Brochures & Worship Aids
Category #5 – Web/Internet Communications
Category #6 – Social Media
Category #7 – Videos
Category #8 – Campaigns
It is our hope that by sharing these examples from our parishes and schools, you will receive ideas that can benefit your ministry. If you have some good ideas to share with others, we hope you will participate in the 5th Annual Light of Faith Program on May 1, 2014. Details will be sent out later this year.
Peace and blessings,
Teresa Peterson
Director of Communications