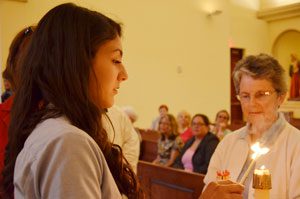 Bishop John Noonan will lead the Light of Faith Prayer Service on Tuesday, April 23, at 5 p.m. at St. James Cathedral, 215 N. Orange Ave., Orlando.
Parishioners, clergy, and religious from churches throughout the Diocese of Orlando will participate. The prayer service presents an opportunity to praise God for the gift of communications and to pray for the courage and wisdom to proclaim God's Word confidently, accurately and effectively. The 47th World Communications Day, designated by the Vatican, is May 12.
Several students who are sharing the Good News of Jesus Christ using a variety of media – including print, video, visual arts, and social media – will be recognized with awards during the prayer service.
The prayer service will be live streamed for those who are unable to attend.
Click here for links to view live stream.