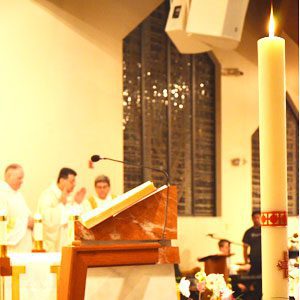 As the need arises to replace your parish's paschal candles, Father Fred Ruse, pastoral minister to our sister diocese in the Dominican Republic is asking for donations of the used candles to light the chapels in the rural communities where he is ministering to our brothers and sisters in Christ.
There are many uses for these candle remnants in the Dominican Republic, such as lighting the chapels (which have no electricity) for prayer before the Blessed Sacrament during Adoration. In Los Guayuyos, Father Fred used cut up paschal candles on Dec. 31 during Adoration in the chapel. Fifteen of these "pieces" were placed on the floor in the form of a cross and Father Fred said it was very striking.
He is also requesting that Paschal candles be cut to approximately 6-8 inches prior to donating. This would help tremendously since they don't have the proper tools to be able to do this.
Crucifix Collection
Father Fred Ruse is also asking for donations of small crucifixes, approximately 8 inches tall. Father Fred places a crucifix on the top of each casket during a funeral Mass and then gives the crucifix to a family member as a special keepsake. He is completely out at the moment and would appreciate any contributions.
Send donations to:
Diocese of Orlando Mission Office
50 East Robinson Street
Orlando, FL 32801