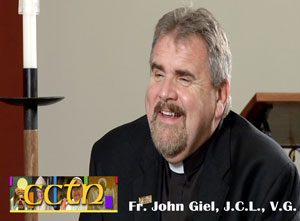 Local pastor and TV evangelist, Father John Giel, now has the potential to reach 11 million more people with his TV ministry. After being a part of local television in Central Florida for 20 years, he has formed a new partnership with My Christian TV, which broadcasts from the Willis Tower in Chicago, the tallest building in the western hemisphere. The Sunday Mass from his parish, St. Paul in Leesburg and the talk show Christifideles will air Sundays afternoons on Comcast Channel 386 and Digital Channel 62.2
"It's the beginning of a new initiative to cover more area. What we have to say is important in our day and age. Our Mass is contemporary and helps Catholics and non-Catholics learn about the Catholic Church and Christifideles profiles the wonderful people of God and we need more of that," said Father John Giel.
My Christian TV is a broadcasting ministry which seeks to promote, provide and produce religious, spiritual, charitable, and educational programming that communicates Christ and family based messages to people in Chicagoland, Southeast Wisconsin, Northwest Indiana, Southwest Michigan and its surrounding areas through both live and taped content aired on linear digital television and various server based platforms. MCTV airs on digital channel 62.2 from the Willis tower as well as Comcast Channel 386. The Willis Tower is the tallest building in the United States and remains the tallest completed building in the Western Hemisphere when measuring pinnacle height. The audience that MCTV reaches is over 5.5 million households or almost 11 million people domestically.
When Father John Giel arrived in Leesburg more than 20 years ago to serve as pastor of St. Paul Catholic Church in Leesburg, many outdated, misconceptions about Catholics existed in the small community. With the help of his parishioners and some borrowed equipment, Father Giel broadcast the first television program centered on the Catholic faith from a small Christian television station.
Today, the small television studio, Catholic Community Television Network (CCTN) has grown into an internationally recognized, award winning network with a wide variety of Catholic programming, including Sunday Mass that airs Sundays at 2:00 p.m. on WTGL-TV 45.
"We are doing what we intended to do because the programs on CCTN have changed the attitudes and understanding of a lot of people. We are spreading the Good News," Father John said. "To me it's an answer to the Pope's call to evangelization. We need to make every effort to make certain that God's word is known and shown to other people.