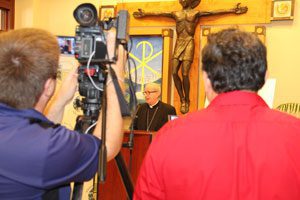 Local media descended upon the chancery Feb. 11 to get the local take on Pope Benedict XIV's surprising announcement earlier that day that he would retire from the Papacy on Feb. 28. Bishop John Noonan, accompanied by Father Esau Garcia, pastor of Holy Cross Catholic Church in Orlando, and Father John Geil, Chancellor of Canonical Affairs and Vicar General for the Diocese of Orlando, reflected on Pope Benedict's service to the Church during the press conference.
"This (Pope Benedict's) announcement is one of great humility and one of great courage," Bishop Noonan said. "We are blessed to have had the grace of Pope Benedict as a priest and shepherd of the Church. His writing and encyclicals have particularly inspired me in my own understanding of my role as shepherd of the local diocese. He has shared with us the richness of God's love as he has serves as our pastor.
Ordained a bishop in June 2005, Bishop Noonan was among the first bishops named by Pope Benedict. As such, he has always had a special relationship with the Pontiff. "We pray for him on his journey and we pray as he moves towards his retirement," Bishop Noonan said. "We pray for our Church that the Holy Spirit will guide her during this period of transition."
Father Ed Thompson, associate pastor, St. Mary Magdalen Catholic Church in Altamonte Springs, empathizes with the Pope.
"He has been a sick man, and struggling with my own health, I know what he is going through, and I understand it," he said. So we must pray that the Church will be given the gift of a great leader because we need on in these troubled times."
Parishioners throughout the diocese said they were shocked by the announcement but respect Pope Benedict in making his difficult decision. Terry Brown, St. Mary Magdalen parishioner, said she felt the Pope was led by the Holy Spirit. Fellow parishioner Peter Staffieri concurs.
"He made a commitment to serve, and in that service, he felt it would be best that someone stronger and more capable to continue leading the Church," he said. "Even if his spirit was able, his body no longer was. We are praying for him and our Church."
"I admire Pope Benedict for looking beyond himself for the future of the Church," said Congregation of the Holy Cross Father Brad Beaupré, pastor, St. John the Evangelist Catholic Church. "He has always been a humble servant. His ministry to the Church as a Cardinal was difficult, in that it was during a troubling time of the Church's history. He had to make some very difficult decisions for the good of the Church. I believe when asked to serve in the Papal role, Pope Benedict did so for the good of the Church, and today, in his resignation, he once again puts the Church to the forefront of his own papacy."