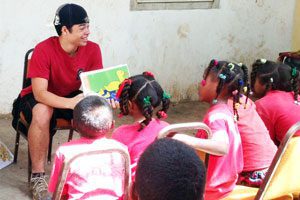 In a tiny village in the Dominican Republic, a group of young children gather around Jacob, a 16-year-old parishioner from St. Margaret Mary Catholic Church, as he slowly speaks in English about common items found in a home. Jacob was among a group of teens and their parents who traveled to the Dominican Republic on June 8-15 for an education mission to help children learn English. Jacob's father, Mike, accompanied him on the trip, his first to our sister diocese.
Picture: Paul, a teen from St. James Cathedral, reads to children in the Dominican Republic. He was part of a group of teens and their parents who traveled to Orlando's sister diocese in June as part of the education mission.
Amanda Livermore, coordinator of missions in the Diocese of Orlando Mission Office, said five teams of parishioners from throughout the diocese made trips to the Dominican Republic, primarily to teach or improve English language skills. Dominican Sister Bernie Mackay, director of the Mission Office, led the educational excursions.
"Our goal is to make all of our mission schools bilingual," she said. "Our schools are the only ones in the country that offer full time classes, five days a week." Learning English will give these students, who are surrounded by extreme poverty, a better chance for a brighter future.
To reach the villages in the remote mountains, the missionaries faced a 3-4 hour hike every day. Jacob said he did not mind, and in fact was in awe of the country the moment he arrived. However, it was the people who had the greatest impact on the teen.
"For them, it is about what they have and not what they don't have," Jacob said. "They were so giving, so hospitable and happy. This experience made me more spiritual, more connected to God."
The education mission was a change of pace for Tom Murphy, a parishioner of St. James Cathedral, who participated with his daughter, Christine. Murphy has been on 10 mission trips, primarily construction missions, in the past seven years. He said he wanted to share this trip with his daughter in the hopes she would have an amazing spiritual journey.
"I want her to grow closer to God through the sacrifice of going to a faraway place and living under difficult circumstances for the sole purpose of helping," he said. "I took my daughter down there because I wanted her to see how the rest of the world really lives. I wanted her to see children her age who do not have iPhones, they do not have computers and internet. They don't have malls where they go out and buy Hollister and American Eagle clothes. I want her to not take anything for granted.
While the youth and their parents were focusing on the younger children, two teams of young adults traveled to the country June 22-July 6 to hold intensive English classes for middle- and high-school students. The primary purpose of this mission was to prepare eight teens for interviews in English that are required for a VISA to travel to the U.S. to study.
The VISA would allow these to teens to study at Diocese of Orlando Catholic high schools during the upcoming school year.
Christie Miller, a professor of English as a Second Language at Valencia Community College who served on this mission, said they were equally as nervous as the teens when it came time for the interviews. She recalled that seven of the students had passed, but one boy, Bacilio, failed to pass the interview on his first try. He spent the next week with the missionaries, working on his English skills whenever possible.
Then, during the eighth grade graduation, Father Fred Ruse, the diocese's missionary priest residing in the Dominican Republic, called Sister Bernie with joyous news – Bacilio would be coming to the United States.
"We were all so excited for him and now he is here," Miller said. "It was so incredible to be part of that process."
On July 6-13, another group of teens and adults traveled to the Dominican Republic for Campo de Fe, a Bible based mission led by Father Ruse. Children ages 3-16 came to a tiny, one-room school house to learn about God and his love through songs, games and crafts.
"We explained to them that we are all the Body of Christ, no matter where we live," said Tracy Vass, a parishioner of Blessed Trinity Catholic Church in Orlando. "We go to the same Mass, we pray to the same God, we read the same Bible. Our youth led them and formed unexpected bonds with these people who had never left this mountain. It has proven to be a faith-building experience for the American youth just as much as for the Dominican children."
Murphy is often called upon to give witness to the good works of the diocese's missions during the celebration of Mass at St. James. He said he encourages parishioners to get out of their comfort zones and make a difference in someone else's life.
"This is how we show what the Catholic faith looks like," he said "We are called to give of ourselves and spread the message of Christianity. I want to challenge people to make a mission in their lives, even if it is in their own neighborhoods, to serve others."