Local Catholics Students Receive National Recognition
Two students from local Catholic schools received top awards in the Catholic Campaign for Human Development (CCHD) Multi-Media Youth Arts Contest.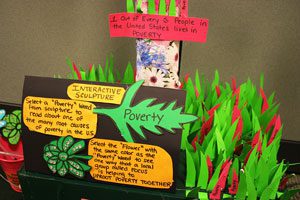 Harley June Smith, a 7th grader at St. Mary Magdalen Catholic School in Altamonte Springs received first place in the national competition for her interactive sculpture titled "The Cross of Poverty." The colorful sculpture shows the root causes of poverty as weeds on the cross with flowers depicting the ways that poverty is being uprooted in our community. She will receive a grand prize of $500 plus a matching grant to the CCHD funded group of her choice, FOCUS (Federation of Congregations United to Serve).
Coco (Yuke) Wu, an 11th grader at Santa Fe Catholic High School in Lakeland received a 3rd place award nationally for his painting titled "Support the Poor." He will receive $250 plus a matching grant to the CCHD funded group of his choice, PEACE (Polk Ecumenical Action Council for Empowerment).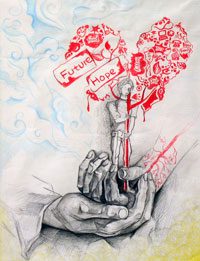 The CCHD Multi Media Youth Arts Contest is designed to engage Catholic students in middle and high school to learn about the causes of poverty, Catholic social teaching, and CCHD. The 2012 contest theme was: "Put Faith in Action! Uproot poverty together."
Bishop John Noonan will also present these students and others from our Diocese with a Light of Faith award on April 23rd to recognize their efforts to communicate the Gospel message via their artistic talents. All are invited to attend the Prayer Service and Award ceremony at 5:30 p.m. at St. James Cathedral. For more information on the Light of Faith Awards, click here.