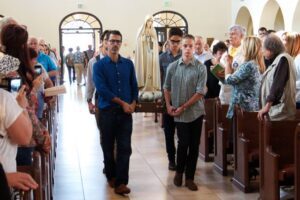 The Haitian Ministry of Our Lady of Fatima Mission in Orlando was instrumental in bringing the statue of a Pilgrim Virgin, Our Lady of the Cap-de-la-Madeleine from Quebec, Canada to St. Francis of Assisi Parish in Apopka. More than 500 people journeyed to see the statue brought by Father Bernard Menard.
Marie Delius, a parishioner of Our Lady of Fatima Mission helped coordinate the event. She felt this was an opportunity for Mary to come to those who could not go the Our Lady of the Cape Shrine in Quebec, the largest North American pilgrimage site to the Virgin Mary.
"Some things help you connect to God and stay focused spiritually," she said. "It is a provision for you to keep going. Especially in the Haitian community right now where people are frustrated and scared. This is the prayer that they need to know that it is okay. Mama is here." This pilgrimage enabled them to feel the comfort and presence of Our Lady.
Pilgrims first met at Our Lady of Fatima Mission to hear talks and reflections on Our Lady. Delius spoke of the Visitation of Mary and the blessing of Mary herself coming to visit and how she taught us to serve with humility. She reminded participants that Elizabeth said, "What have I done that the Mother of my Lord should come to me?"
Father Gaetan Boursiquot, director of Haitian Ministry for the Diocese of Orlando, welcomed parishioners and spoke along with Father Menard who shared the history and story of Our Lady of the Cape de la Madeleine and the various miracles attributed to her.
After the talks, pilgrims traveled to St. Francis of Assisi Parish where several altars were set up. After Mass, the Blessed Sacrament and the statue of Our Lady processed from altar to altar, stopping at each one to offer prayers and song. There were altars for the sick, for youth, for families and many others. Each altar was adorned with Scripture and pertinent items such as a wheelchair or a photo of the Holy Family.
Delius said, "Mary reminds us to be humble. That it's not about you. It's about God. The glory is for God any time and every time. When you remind people of the miracles, of what God did …that reminds them that it could happen for me too."