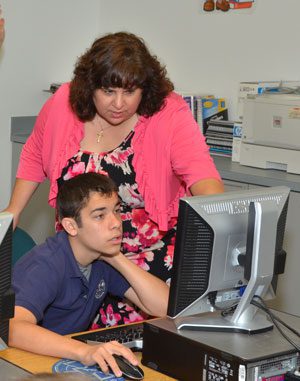 Donna Witherspoon, principal of Our Lady of Lourdes Catholic School, has been named among the Top 50 Innovators for 2012 by the Center for Digital Education (CDE), a national research and advisory institute specializing in K-12 and higher education technology trends, policy and funding. The report includes leaders from across the country and all educational institutions from elementary schools to the Department of Education.
Witherspoon was recognized for her innovative methods of communication and learning in moving Our Lady of Lourdes, as well as Good Shepherd Catholic School, forward in terms of technology and 21st-century learning. Prior to being named principal in 2012, Witherspoon was a teacher and technology coordinator at Good Shepherd for 11 years.
During her first few months at the helm of Our Lady of Lourdes, Witherspoon has updated the wireless infrastructure and made changes to the school's network structure. In addition, she began offering weekly workshops for teachers on instruction using technology in the classroom and has redesigned the curriculum in existing technology classes, bringing in new equipment to place technology in the hands of students.
She said educators need to embrace a new way of teaching.
"We can't be putting toys with bells and whistles and flashing lights in the hands of our babies and preschoolers and then expect these children to sit quietly in a classroom as kindergartens and listen to lessons," she said. "From an early age, our children want to take an active, hands-on role in their education."
"It's the goal of our school to provide students with a learning environment that pushes them to their full potential," Witherspoon continued. "Our technology allows students to take advantage of the environment they are growing up in and to learn in an atmosphere that stimulates their interest. The changes we've made here aren't gimmicks; our students are at the vanguard of the learning curve."
Henry Fortier, superintendent of schools for the Diocese of Orlando said the nod from the CDE is just one of several indicators of the vitality of the Catholic school system in Central Florida.
"Our Catholic education system is striving to provide students with the opportunities to succeed at exceptional levels across all grades and schools and Principal Witherspoon has executed that mission," Fortier said. "We are committed to keeping our learning environments as enriching as possible, combining technology with innovative teaching methods within nurturing and safe schools that prepare our students intellectually and emotionally to succeed in the classroom throughout their educational careers and lives. We congratulate Principal Witherspoon on her exemplary accomplishments."