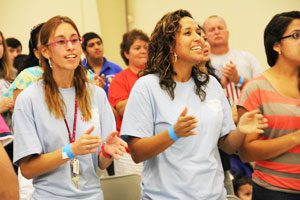 As a native of Brazil, Humberto Farias of Resurrection Catholic Church in Winter Garden was thrilled when he learned that World Youth Day 2013 (WYD) was going to be celebrated in his homeland. However, unable to make the trip overseas, he sought another means to celebrate with his brothers and sisters in Christ. He found the answer in his own backyard.
The Diocese of Orlando Office of Faith Formation and the Brazilian Catholic Community hosted a local World Youth Day event at Resurrection Catholic Church on July 27. As many as 350 Catholics from throughout the diocese joined in the celebration, held in conjunction with closing day ceremonies in Rio de Janeiro.
The local, multicultural, multi-faceted celebration included a flag procession, prayer, music and Brazilian food. Father Hector Vazquez of St. Rose of Lima Catholic Church in Poinciana gave an inspiring address to the youth echoing the Holy Father's call for them to make some noise as evangelizers in the Church of today. The highlight for many in attendance was participating in the celebration of Mass in Portuguese, Spanish and English and the live streaming of Pope Francis' WYD-address from Rio de Janeiro.
"I had the opportunity to participate in World Youth Day in Germany and it was one of the greatest experiences of my life," said Farias, who was at the celebration with his wife and young child. "I couldn't miss it. Even though I am from Brazil, I could not go there and I thought there is no better way than to participate here at church."
Dennis Johnson, Jr., director of the Diocese of Orlando Office of Faith Formation, said he was pleased with the day's event, especially because it came together in a matter of weeks.
"We are so grateful to have the opportunity to celebrate World Youth Day here in our diocese for we are truly an international mecca in this local church of central Florida," he said. "Our young people, adolescents and emerging adults alike, are disciples of Catholic faith now! To see them engaging with one another and in deeper communion with Christ is inspiring."
"What impresses me most about our gathering is that it rallied together Anglos, Hispanic, Vietnamese, Haitians, and countless others," he continued. "And, of course, the Brazilians to whom we are most indebted for the opportunity to share their hospitality and culture."
Vanessa Russo of Resurrection Catholic Church said the Brazilian community was pleased to host the event and she was touched by the presence of so many participants from different parishes and cultures.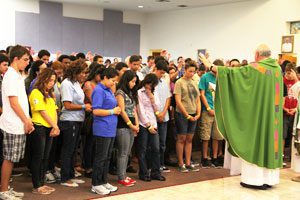 "It was an amazing celebration and a true witness to World Youth Day, an amazing event where young people from so many different languages and cultures are united in one faith," Russo said. "The celebration here in Orlando helped me feel part of all that was happening in Rio and this day will be marked in the memory and hearts of the Brazilian Catholics of our diocese. At the end, we are all sent out to 'go and make disciples of all nations', the theme WYD 2013. Now it is time to live out this mission."
Many of the faithful echoed Russo's sentiments. Jenise Asia from St. Clare Catholic Church in Deltona, said seven people from her parish participated as a means of rejuvenating their faith lives. She said she found the event to be "amazing."
"It makes me want to go out there and make some noise," Asia said.
Sheila Henry, administrative assistant for Diocese of Orlando Haitian Ministry said the World Youth Day event was a unique experience and a wonderful opportunity to meet other youth from different cultures.
"This journey allowed us to realize that even though we are of different nations and diverse cultures we are facing the same problems and have the same aspirations," Henry said.
World Youth Day is a gathering of youth and young adults from around the world, who come together to connect and grow deeper in faith. The first event was held in 1986 in Rome. The Catholic News Agency reported that more than three million Catholic pilgrims from around the world participated in the celebration of the final Mass with Pope Francis at World Youth Day, making the 2013 event the largest of its kind since 1995.