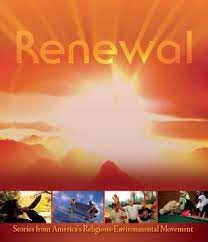 As the Church celebrates the feast of St. Francis of Assisi on October 4, my thoughts turn to St. Francis' endearing "Canticle of the Sun". "Praised be You my Lord through our Sister, Mother Earth who sustains and governs us…" St. Francis loved God's creation and personified Sister Water, Brother Sun and Sister Moon. How profound to love and respect creation and understand it is actually related to us! In Genesis 1:28, God called Adam and Eve and all of us as stewards of creation. Yet, it seems at times an overwhelming task.
The feature for this week is the documentary "Renewal". This film captures the vitality and diversity of religious-environmental activism. Various religious congregations re-examine connections between faith and stewardship of the Earth. Eight separate stories address topics such as global climate change, mountaintop removal, food sources and security, environmental justice, recycling, land preservation, and religious formation initiatives. I was particularly struck by the segment featuring Catholic Christians and Native Americans in the arid plains of New Mexico. They came together for a liturgical celebration to bless the water that sustains their small farms. This water distribution was threatened by land development. Their common recognition of the sacredness of "Sister Water," which the Native Americans call "the blood of Mother Earth" was at the heart of the liturgy. Their faith gave them courage to advocate for the land and their way of life.
It is an overwhelming task to protect "our Sister, Mother Earth", but I believe it is something all of God's people can accomplish, together. Learn more about interfaith efforts to protect the environment in our community at Sunshine State Interfaith Power and Light
Order this DVD at https://www.orlandodiocese.org/mc-media-center-home. Please call Diane Gallagher @ 407-246-4895 for assistance in using audiovisual media in faith formation for all age groups.
(Diane Gallagher serves as Media Center Coordinator.)