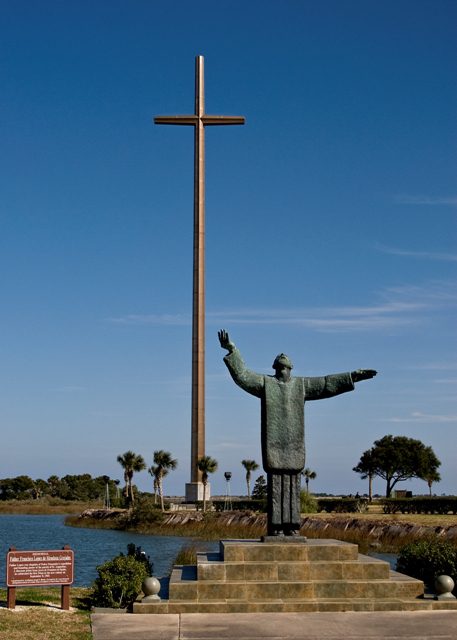 Bishop John Noonan will lead a Marian Pilgrimage on August 31 to Our Lady of La Leche Shrine located at the center of the tranquil grounds of the Mission of Nombre de Dios in St. Augustine. During this Year of Faith, the Holy Father has asked the faithful to recognize the special role of Mary in the mystery of salvation, to love her and follow her as a model of faith and virtue.
Click here to download the flyer.
Click here to vist the website for more information.
The Shrine of Our Lady of La Leche, which houses a replica of Our Lady of La Leche, is the first shrine dedicated to the Blessed Mother in the U.S. and is visited by thousands of people annually. The Shrine is a place of spiritual comfort and renewal and provides visitors with a quiet place to pray.
Bishop Noonan will celebrate Mass and also give a reflection about our Blessed Mother.
During the pilgrimage, there will be opportunities for self-guided tours of several religious sites, including the following:
• Our Lady of La Leche Shrine, built by Spanish settlers and Native Americans in the 1600s; the shrine's centerpiece is a replica of the Blessed Virgin nursing the infant Jesus; and Chapel of Our Lady of Le Leche, a small, simple chapel which allows for quiet prayer and those seeking Our Lady's intercession
• The Great Cross, a 208-foot cross which is a tribute to the growth of Christianity throughout Florida; erected by Archbishop Joseph Hurley of St. Augustine in the 1960s
• The Rustic Altar, an outdoor altar commemorating the first Mass celebrated on the date of the founding of St. Augustine on September 8, 1565
• The Cathedral Basilica of St. Augustine
• Sisters of St. Joseph Motherhouse
DETAILS:
Cost: $20, includes round trip bus transportation, click here to register online (The pilgrimage is limited to 150 registered participants.)
Date: Saturday, August 31, 2013
Time:
8:00 a.m. Buses leave St. James Cathedral, 215 North Orange Avenue, Orlando
(Additional pick up locations TBA)
4:00 p.m. Buses leave St. Augustine (Approximate arrival time to St. James Cathedral is 6:30 p.m.)
Meals are not included. Please bring lunch or enjoy lunch at a local restaurant in St. Augustine.
Contact: Diane Gallagher, dgallagher@orlandodiocese.org, or 407-246-4897, for more information.