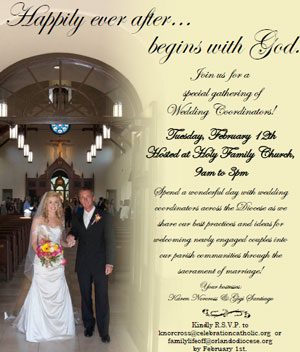 All Parish Marriage Preparation or Wedding Coordinators for the Diocese of Orlando: Please join us for a special gathering/networking event on Tuesday, February 12th at Holy Family Catholic Church in Orlando, from 9 a.m. to 3 p.m.
Plan to spend a wonderful day with other wedding coordinators across the Diocese as we share our best practices and ideas for welcoming newly engaged couples into our parish communities through the Sacrament of Marriage!
For further information, call the Office of Family Life and Pastoral Care or kindly R.S.V.P. to Karen at knorcross@celebrationcatholic.org or Lisa at familylifeoff@orlandodiocese.org by February 1.