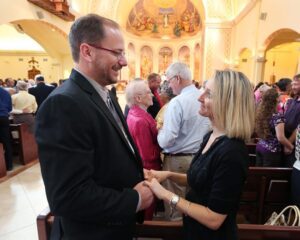 More than 300 Catholic couples renewed their vows at the Diocesan Mass for Marriage on Saturday, February 18. Bishop John Noonan celebrated the Mass at St. James Cathedral in Orlando and blessed the couples. Married couples of all ages, and celebrating anniversaries from 2 years to 65 years, took part in this celebration of the Marriage Sacrament which brings spouses the grace that is needed to be faithful and to be good parents.
Catholics believe that marriage comes as a gift from the hand of God. The Catholic vision of marriage is rooted in Sacred Scripture and is expressed in the teachings and practices of the Church.
This local celebration coincided with World Marriage Day, which is celebrated on the second Sunday of February each year. In addition, National Marriage Week was observed from Feb. 7-14, with the theme "Let's Strengthen Marriage."
Referencing advice given by Pope Francis, Bishop Noonan shared three phrases that are essential in every marriage: "Please, Thank you, and I'm sorry."
"Love is something that is so special between a husband and wife," said Bishop Noonan. "I can tell you I have experienced it from my own parents. You in your lives share that with your children. That is the hope for the future. You are living reminders of what it is to be courteous, to have gratitude and to be above all, humble before God and each other."
The Florida Catholic profiled some of the participants at the Mass and shares some of their best advice for a happy, faith-filled marriage below.

Anthony and Jessica Rivera
Anthony and Jessica Rivera met during their sophomore year of high school and dated for the next 11 years before getting married in 2013. Parishioners of St. James Cathedral, they participated in the Mass for Marriage with their toddler-aged son.
"Faith plays a huge role in our marriage," said Anthony. "Basically, I would say we wouldn't have a marriage without it."
The couple, while admitting that finding time can be a challenge with their young son, said that they make faith a priority by participating in Mass together, receiving the Sacraments, and praying constantly.
"We do whatever is possible," said Anthony. Gesturing to his son he continued, "He might only give us 10 minutes here or five seconds there, but every little bit counts!"
Ralph and Bella Pesce
"We've always said that God has a good sense of humor because he put us together," said Ralph Pesce with a laugh. He and his wife Bella believe having a good sense of humor and not taking life so seriously is the key to making their marriage work. The snow-bird couple from Long Island, NY is spending the winter at Corpus Christi Parish in Celebration. They celebrate 25 years of marriage this year.
Ralph met Bella at work and said it took three years before he wore her down and she agreed to go on a date with him. "I was persistent and patient," he recalled, "which I think are also good qualities in a marriage!"
Both Ralph and Bella had experienced divorce. When they decided they were a good match for each other they felt strongly that they wanted their marriage blessed by the Church. Ralph had previously obtained an annulment and Bella immediately began the process. The couple was married at St. Sylvester Parish where they are still parishioners today.
"Even before I met Bella, once I had gotten divorced I sought an annulment because I said if I ever get married again I want to get married in the Church," explained Ralph.
"I felt very strongly," said Bella. "God has always been in my life, especially in the roughest times that I've had. I just felt that if I wanted to start a new life with the person I love, I needed God's blessing."
Ronald and Mary Mrozek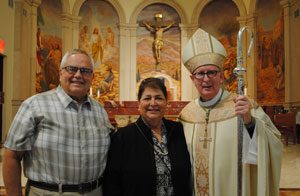 Ronald and Mary Mrozek met while in college. Ronald was in a rock and roll band and Mary was dating the lead guitarist.
"I just said, 'He's not right for her' and snatched her away!" said Ronald. "50 years later we have two children and four beautiful grandchildren."
Ronald gave up the wild rock and roll life to become a mild mannered stock broker and for many years Mary taught in the Catholic school system. Through it all they have found it important to have a strong connection to their parish and have been involved in a variety of ministries. Today they attend Blessed Sacrament Parish in Clermont. They see faith as an essential component of their marriage.
"Faith brings peace to an otherwise chaotic environment," said Ronald.
In addition, Ronald gave this advice for a happy marriage, "Don't look for perfection. Be patient. You're going to make mistakes but don't let those mistakes overwhelm you because it isn't going to work any other way."
"Communication is the best thing," Mary continued. "Let each other know what you like and don't like otherwise he has no way of knowing. After 50 years you are a mind-reader, but not at first!"
"It's been a great life," said Ronald. "I don't regret a moment."