FORT MYERS | The FHSAA Class 5A state baseball championship game became a test of wills. Because several unexpected heroes willed it, Melbourne Central Catholic won a state championship.
Bryce D.'s pinch-hit three-run double broke a 3-3 tie in the eighth inning, and Shea J. closed the door to help the Hustlers defeat Fort Lauderdale Cardinal Gibbons 6-3.
The Hustlers won their second state championship in school history and first since a 2013 Class 3A crown. Melbourne Central Catholic also prevented Cardinal Gibbons from winning its first title. The Chiefs, who made their first state final since winning the 1987 Class 3A state championship and dethroned defending champion Monsignor Pace in the Region 4 final, stood toe to toe with the Hustlers.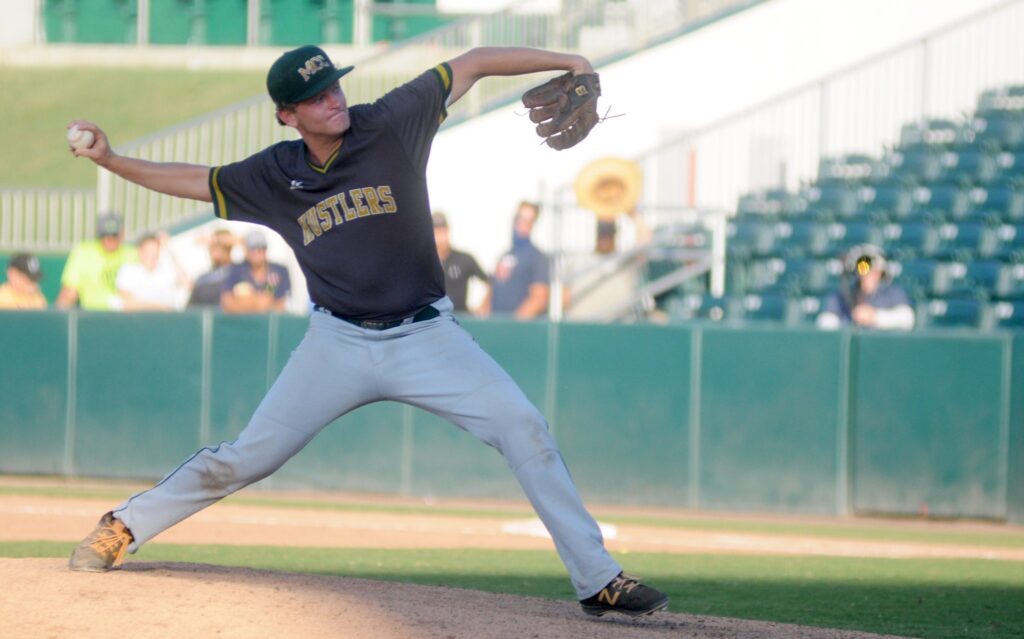 Melbourne Central Catholic (24-9) may have ridden its stars to the final, but bit players helped finish the journey. Bryce D., a sophomore who had played only 13 games and hadn't played since May 8 against Astronaut, took a 2-2 pitch into left-center field for a three-run double.
"Once I had two strikes, I knew I had to put it in play," Bryce said. "I just saw the pitch and nothing else, just hit it. It came off the bat real nice."
Zach B., on second base, said Bryce swung at a high pitch, but shook it off. "I saw him smiling," Zach said. "I was like, he was smiling, and I said, 'Something's going down.'"
HADN'T PLAYED, PITCHED IN A WHILE
Because Nick D. pitched a complete game in the Hustlers' 2-0 semifinal victory over Live Oak Suwannee, the Hustlers had the rest of their bullpen available. Jackson T., who hadn't pitched since May 18, allowed one earned run in 5 1/3 innings. When Cardinal Gibbons scored t
wo runs off Justin L., Shea J. pitched the final 1 2/3 shutout innings to clinch the victory. He hadn't pitched since May 7 against Cocoa.
"Shea needs a shout-out, because he hadn't pitched in a while," Melbourne Central Catholic coach Tom Dooley said. "To go out there and finished the eighth inning like that is kind of neat. It's a great story."
Zach went 2 for 4 from the plate. He also drove in two runs. Jackson went 2 for 3.
Each time Melbourne Central Catholic jumped ahead, the Chiefs had a reply. Zach's RBI single in the fourth put the Hustlers up 1-0, but Kevin H.'s sacrifice fly in the bottom of the fourth tied it.
Zach put the Hustlers up 3-1 in the top of the sixth with an RBI triple then scoring on a two-out wild pitch. "It was a high outside fastball," he said. "I noticed the vibes I was getting from my teammates. I had to get something done."
The extra run was needed, because Brice M.'s two-run single off Justin L. in the bottom of the seventh tied it. "It was a little nerve-wracking, but I had to give the next guy a chance," Brice M. said. "At first, I was a little scared. Then I got a pitch to hit."
Shea J. entered in relief, but allowed a single and hit a batter with two outs to load the bases. He escaped by inducing a flyout- sending the game into extra innings. A walk and two grounders loaded the bases for Bryce D.'s game-winner.
By Lynn Ramsey, Florida Catholic correspondent – May 31, 2019