TITUSVILLE | The ribbon was cut, marking the opening of St. Teresa Catholic School's new Boland Media Center. Parents, guests and local officials toured the media center as students demonstrated the use of new technological tools that will advance their studies and provide new learning opportunities.
"We were trying to convert the original space from a traditional library to a 21st century learning environment," said Principal Mary McCrory of the Titusville school. Renovations began last fall when removal of library books, fixtures and furniture made way for progress. New furniture and two new learning rooms – a reading center for younger students and a collaborative learning center for older students, opened for tours Feb. 16 after the grand opening. As doors opened, students were already seated at tables illustrating the advantages of their new tools.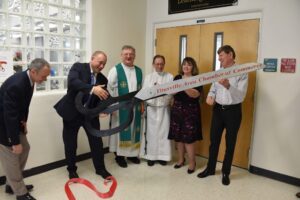 Four tables with 32" monitors equipped with plug-ins for Chromebooks™ allow students increased opportunities through collaborative learning projects. McCrory noted reading room chairs are movable "so kids can get some energy out while the teacher reads to them."
A 75" interactive touch screen panel connected to a PC enables teachers to pull lessons from the internet. Twenty points of touch allow multiple students to use the smart screen to solve math problems or work in unison on a wide array of solutions.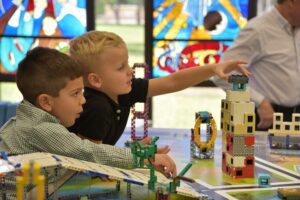 STREAM (science, technology, religion, engineering, arts and math) equipment is on order as well as robotics kits and a 3D printer "to bring kids into that critical thinking and discovery, learning to think outside the box," added McCrory. "They're going to have more opportunities for collaborative learning using equipment that will get them thinking differently than a traditional classroom," she added.
The new media center accommodates approximately 45 students. The early learning reading center will retain books from the previous library to encourage love of reading. Renovations were made possible due to a donation by the Boland family. McCrory noted, "(David Boland) has been a strong supporter of our school over the years and is very invested in our community." Boland has a grandchild at the school.
By Glenda Meekins of the Florida Catholic February 21, 2020