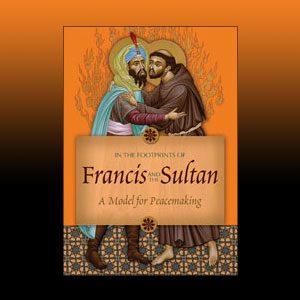 Reconciliation lies at the heart of Christian life. Catholic Christianity celebrates this reality most ardently during the Lenten season. Reconciliation involves the discipline of forgiveness and calls for an evolving engagement with our sisters and brothers. Beatitude is the Gospel name of this engagement. Fr. Tom Murphy O.F.M., Spiritual Assistant for Florida's secular Franciscans, once discussed the eighth commandment through the perspective of beatitude.
The spiritual wellspring, enabling me to transcend base desires for my neighbor's goods, rises above respect for social order and lifts me into holy recognition of my neighbor as a child of God.
In two, 24-minute segments, the 2012 Franciscan Media DVD, "Francis and the Sultan: A Model for Peacemaking," portrays the historical story and spiritual legacy of St. Francis' encounter with Sultan Malek Al-Kamil during the Fifth Crusade in 1219. After unsuccessfully exhorting Christians to disengage from their siege of the Egyptian city of Damietta, St. Francis crossed the demilitarized zone into the Sultan's camp. This celebrated encounter resulted in the safe passage and enduring presence of Francis and his followers in the Holy Land. Although their communication was limited by dissimilar languages, each recognized the sacred presence in the other.
Scholars, diplomats and artists share insights throughout this DVD. The accompanying resource book includes an array of materials on peacemaking, the intersecting teachings of Islam and Christianity, related web sites and a selected bibliography on interreligious dialogue. The DVD and resource book provide excellent resources for personal study and small group reflection.
Order this title or call Diane Gallagher or Dan Hardester @ 407-246-4897 (or 4895) for assistance in using audiovisual media in faith formation for all age groups.
(Dan Hardester serves as Secretary of the Evangelization Secretariat and Director of the Media Center.)