Catechists throughout the Diocese of Orlando celebrated community on Faith Formation Day. From Bishop Noonan's keynote to the break-out sessions and exhibitors, we laughed and learned together. In thankfulness for the gift of community, we feature the six minute "Lux Aurumque" video.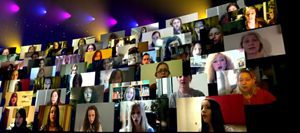 The video showcases a choral work by a virtual choir. They sing Charles Anthony Silvestri's Latin adaptation, "Lux Aurumque," of the Edward Esch poem, "Light and Gold." The words invoke the Incarnation: "Light, warm and heavy as pure gold, and angels sing softly, to the new-born babe."
The composer and conductor, Eric Whitacre shares the story of this virtual choir in a 14 minute Ted lecture . Mr. Whitacre posted the musical score and a video of his conducting the piece on Facebook and invited singers to post their individual choral videos on Youtube. The result is breathtaking! In my break-out session at Faith Formation Day, I explored our communities of Trinity, Creation, Universal Church, parish and family; and introduced "Lux Aurumque" as a new way of forming community in the Digital Age.
One of the participants objected that a virtual choir wasn't a real community. Essentially agreeing with her assertion, I offered the additional information that some of the choir members had interacted personally after the video premiered on Youtube. A young man interjected that the virtual choir was indeed an example of real community. In a similar way, Catholics throughout the world enter community in our celebration of Eucharist. The choir members had struggled together to realize a dream. The room fell silent at his insight. The simplicity of this truth astounded me. After all, I believe in the Communion of Saints and pray daily for all the living and those who have left this mortal life. I can't pinpoint the moment I started believing that community begins and ends with my interactions but I thank that young man and Eric Whitacre for enlarging my vision.
Call Dan Hardester or Diane Gallagher@ 407-246-4895 (or 4897) for assistance with catechetical videos and DVDs. (Dan Hardester serves as Secretary of the Evangelization Secretariat and Director of the Media Center.)