To celebrate the role of our Blessed Mother Mary in our life of faith, Father Randy Soto will offer two keynote addresses at this year's Marian Congress. Each presentation will be offered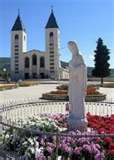 separately in English and Spanish. The two language tracks will be brought together during the Opening Liturgy on Friday evening, October 21st, at the Basilica of the National Shrine of Mary, Queen of the Universe, as well as during musical devotions on Saturday, October 22nd at Holy Redeemer Church. Fr. Randy received his doctorate in Biblical Theology from the Pontifical Gregorian University in Rome and currently serves as an Associate Professor of New Testament at Kenrick-Glennon Seminary in the Archdiocese of St. Louis. Please read more about the event and register @ https://www.orlandodiocese.org/mariancongress/. Looking forward to special devotions to our Blessed Mother during October, we feature Sacred Heart Films' "The Holy Rosary: A Journey through Prayer." This DVD offers meditative moments to discover anew the joy, sorrow, glory and luminosity of this Catholic Christian prayer. Filmed on the grounds of the National Shrine Grotto of Lourdes, we pray the Rosary amid the old growth trees, running streams and brilliantly colored autumnal flowers of northern Maryland. As each decade begins, we read the words of scripture inscribed on a copper plaque. As we pray, we gaze on a mosaic depicting the scriptural scene. This 30 minute DVD simultaneously serves as a primer on this beloved Marian devotion and a startlingly fresh invitation into this contemplation of the Life of Christ. Order this title during your visit to the Media Resource Center @ click here, or call Dan Hardester or Diane Gallagher@ 407-246-4895 (or 4897).
Dan Hardester serves as Secretary of Evangelization and Director of the Media Center.