The Diocese of Orlando celebrates the milestone anniversaries of five men marking 25 years in the priesthood, and nine men marking 50 years.
25 YEARS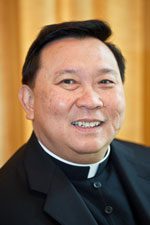 Father Chau Nguyen, St. Philip Phan Van Minh, Orlando
Father Chau Nguyen was 15 years old when he, his mother and three siblings escaped war-torn Saigon in with only a change of clothes, some dry food and a little money. The family ultimately resettled in a refugee camp in Arkansas, where they learned to speak English. Ten months after fleeing their homeland, in February 1976, the small family made their new home in Arlington, Texas.
After graduating from high school in 1981, Father Nguyen attended the University of Texas in Arlington for one year before transferring to Divine Word College in Epworth, Iowa. In 1985 he graduated from the university, and joined Mundelein Seminary as a seminarian for the Diocese of Orlando, then led by Bishop Thomas Grady. Father Nguyen completed his studies, in 1989 and in December of that year was ordained. He and his fellow priests — Father Charles Viviano and Father Kent Walker– were the last class to be ordained to the priesthood by the well-loved bishop.
Throughout his priesthood, Father Nguyen has ministered to the Vietnamese community, first as associate pastor at St. Charles Borromeo Catholic Church in Orlando, where he worked with the Vietnamese community, and then as associate pastor of St. Joseph Catholic Church in Palm Bay.
In August 2003, he was named pastor of what would be the only Vietnamese parish in the Diocese of Orlando — St. Philip Phan Van Minh Catholic Church. The parish was founded in December 2004, with Bishop Thomas Wenski dedicating the parish on Nov. 3, 2007. Today, Father Nguyen ministers to 650 Vietnamese families.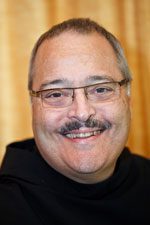 Franciscan Father Blase Romano, Villa Madonna Friary, New Smyrna Beach
Father Romano believes he came about his vocation in an "unusual" way. During his freshman year of high school, Father Romano checked out a book from the school library that described the religious orders of men in the Catholic Church.
"All the bells and whistles went off when I read about the Franciscan communities that ministered in the Church," Father Romano said. "It was about then when I began to seriously think about a life as a Franciscan friar."
In 1977, Father Romano entered the Third Order Regular Franciscans pre-novitiate in Ohio and a year later, the novitiate at St. Bernardine Monastery in Pennsylvania. He attended The Catholic University of America for his undergraduate and graduate degrees and was ordained Sept. 9, 1989, at the Basilica of the National Shrine of the Immaculate Conception in Washington, D.C.
For the next 25 years, Father Romano ministered to the faithful in parishes throughout eastern United States, including St. Patrick Catholic Church in Mount Dora. He is currently in residence at Villa Madonna Friary in New Smyrna Beach, where he and his Franciscan brothers live in community.
"There is a love and support which we show each other because of the life we've chosen to lead," Father Romano said.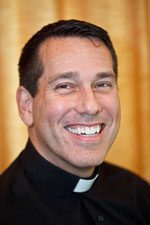 Father Derk Schudde, Sts. Peter and Paul Catholic Church, Winter Park
While most newly ordained priests begin their priesthood ministering in a parish, Father Derk Schudde began his priestly journey serving as the bishop's secretary and associate chancellor for the Diocese of Ogdensburg in northern New York where he was ordained on May 20, 1989.
Five years later, he received his first parish assignment as associate pastor to St. Peter Catholic Church in Plattsburgh, N.Y., where he served for two years and was then sent to The Catholic University of America for post-graduate studies in philosophy so he could teach at the seminary level. Still, Father Schudde felt a calling to be a parish priest, and took a sabbatical to reassess the direction of his ministry.
During this time of discernment, God led Father Schudde to the Diocese of Orlando, where then-Bishop Norbert M. Dorsey granted him permission to stay and assigned him to St. Margaret Mary Catholic Church in Winter Park, where he ministered to the people for two years before being named temporary administrator of Sts. Peter and Paul Catholic Church also in Winter Park. Ten years later, he serves the parish as pastor.
Father Schudde said he could have done many things with his life and he truly believes God would have been happy with any of his choices.
"But in the silent moments of prayer when I could block out all the distractions of life, the call to priesthood always seemed the loudest," said Father Schudde. "Even though many times in my youth I still wanted to say no to God, he always seemed to win out."
As for being a parish priest, he said, "These last years have been the happiest and most fruitful of my ministry."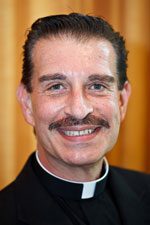 Father Charles Viviano, Church of the Resurrection, Lakeland
Born and raised in Daytona Beach, Father Viviano credits his parents with planting the seed of faith in his heart and teaching him love and respect.

Father Viviano attended Our Lady of Lourdes Catholic Church and School in Daytona Beach. The church had a handful of Irish priests and the school was staffed by consecrated religious sisters from Ireland. "I was surrounded by religion and religious every time I was there, weekday and weekend. I practically lived at church because I loved it so much," Father Viviano said.
When he was in fifth grade, he felt God calling him to the priesthood. While participating in extracurricular activities that most boys enjoyed, Father Viviano also embraced parish ministry, serving as an altar server, lector, greeter, leading Stations of the Cross during Lent, and volunteering as an office assistant at his school and church.
His involvement continued at Father Lopez High School, where he became commissioned in visiting the sick and homebound. He also recorded voice books for the sight impaired.
Father Viviano attended St. Meinrad College Seminary, School of Theology and Monastery in southern Indiana before entering St. Vincent de Paul Regional Seminary in Boynton Beach for theology. During his final year in seminary, he also earned a certificate in elder care/aging studies from what is now Lynn University. Father Viviano was ordained a priest on Dec. 2, 1989.
"My first 25 years of priesthood have been very rewarding and life-giving," he said. "Even after 25 years I experience that my fulfilling life and ministry as a priest is fresh, alive, connected and present, and is still opening new doors and possibilities of guiding me and my people into a deeper relationship with Our Lord, Jesus."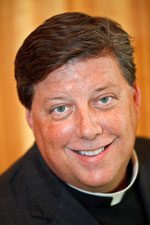 Father Kent Walker, St. Thomas Aquinas Catholic Church, St. Cloud
Father Walker is affectionately known as the "singing priest." He recorded his first contemporary Christian music album in 1994 and has produced six additional albums since then, some of which are available at St. Thomas Aquinas.
"Using this gift has brought me great joy and another way to spread the good news of Jesus," he said.
Inspired by his parish priest when he was a boy, Father Walker said he remembers wanting to be a priest when he was a second-grader at Mary, Star of the Sea Catholic Church in Freeport, Grand Bahama Island.
He graduated from Manatee High School in Bradenton in 1978 and entered St. Meinrad College Seminary in Indiana, graduating in 1985. During this time he pursued music in vocal studies, and always hoped to use those talents to touch people's lives.
Father Walker continued his studies at St. Meinrad School of Theology and was ordained Dec. 2, 1989. He was a member of the last class — which included fellow jubilarians Fathers Chau Nguyen and Father Charles Viviano — that Bishop Thomas Grady ordained before he retired.
Father Walker has ministered to the faithful throughout the Diocese of Orlando, serving at Ascension Catholic Church in Melbourne, 1989-1992; Bishop Moore Catholic High School and St. Charles Borromeo, 1992-1993; St. John Vianney in Orlando, 1993-1996; and Divine Mercy in Merritt Island, 1996-1999; St. Thomas Aquinas in St. Cloud, 1999-2004; and St. Paul Catholic Church in Leesburg, 2004-2008. Father Walker returned to St. Thomas Aquinas in 2008 and continues to serve the parish as parochial administrator.
As Father Walker reflects on his 25 years as a priest, Father Walker said it is "an honor to be with people and walk with them through some of the greatest and saddest moments of their lives."
50 YEARS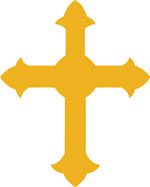 Holy Cross Father Kenneth Silvia, Congregation of Holy Cross
Father Kenneth Silvia's ministry as an ordained priest of the Congregation of Holy Cross has taken him all over the world.
Shortly after being ordained a Holy Cross priest in December 1964, Father Silva was loaned out to a Holy Cross province in Brittany, France, where he worked in a minor seminary. Although he said he is not fluent in French, he knew how to communicate.
In addition, he taught high school in Connecticut, and then worked in religious renewal after Vatican Council II. During this time he interacted with religious across the United States, Canada and New Zealand. He was then given the opportunity to recruit for the Congregation of Holy Cross.
Shortly thereafter he was sent to do graduate studies in Louvain, Belgium. He returned to the United States and worked in parish ministry at several churches in the northeast United States.
Father Silvia was the national director for Families for Prayer, a parish-based program that inspired families within parishes in the United States and Canada to form domestic churches within their homes to promote prayer. The national organization provided all of the materials and trained parish leaders to form teams to promote the cause. Families for Prayer was an outcrop of the "Family Rosary Crusade" started by Father Patrick Peyton, an Irish priest of the Holy Cross order who promoted devotion to the rosary.
Father Silva retired to the Holy Cross House in Cocoa Beach in 2009 and is now living at Christopher House. He said one of the most inspiring parts of his vocation is the people.
"I've gotten to meet some extraordinarily holy people who wouldn't describe themselves as such," he said.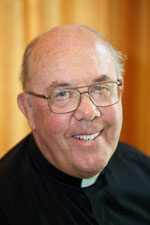 Holy Cross Father Laurence Olszewski, Congregation of Holy Cross, Retired
While studying at Stonehill College in Easton, Mass., founded by the Congregation of Holy Cross priests, Father Laurence Olszewski went along with a friend from South Carolina to offer moral support as he talked with one of the religious priests about a vocation in the priesthood.
The friend went on to become a physician, and Father Olszewski went to the seminary to become an ordained priest of the order. He has traveled the world and positively impacted others through various parish assignments and work he has done, namely while employed at Catholic Relief Services.
After his ordination in December 1964 and teaching high school for a year in Connecticut, Father Olszewski traveled to Peru, where he served for seven years in parish ministry.
"The most rewarding experience (of my vocation) in a way was my time in Peru," he said. "It was a very large parish and really an opportunity to experience my ministry. We would also teach in the public schools. It was a wonderful education for a young priest."
Father Olszewski returned to teach in the United States, while also pursuing graduate studies in theology and religious studies at Harvard University.
In 1978, he joined Catholic Relief Services (CRS) and ministered to people in Africa. Later, Father Olszewski served as the liaison with all U.S. Catholic dioceses for CRS and oversaw Operation Rice Bowl and the Bishop's Annual Overseas Appeal.
Around the turn of the century, Father Olszewski came to the Diocese of Orlando to help establish a new parish – St. John the Evangelist in Viera. One year after the church's dedication in 2007, Father Olszewski retired to Christopher House in Cocoa Beach. Today, he assists at Divine Mercy in Merritt Island.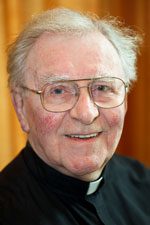 Redemptorist Father Francis Nelson, Sacred Heart Catholic Church, New Smyrna Beach
More than five decades ago, Redemptorist Father Francis Nelson entered Mount St. Alphonsus Redemptorist Seminary in Esopus, N.Y. There he said he encountered good professors and inspiring Redemptorist priests. Ordained June 21, 1964, Father Nelson continued his education throughout his priesthood, ultimately earning a master's degree in finance from the University of Baltimore and an MBA from St. John's University in New York.
His priesthood took him up and down the eastern seaboard serving at parishes, mainly in Pennsylvania, Maryland, New York and now in Florida. Because of his financial and business education, the order put him to work at the Baltimore Province of the Redemptorist Order, which is headquartered in Brooklyn, N.Y. Father Nelson served as treasurer for 18 years and was responsible for funding of the province, along with those in Brazil, Paraguay, Puerto Rico and the Caribbean.
Nine years ago, Father Nelson went into "semi-retirement" and now serves as parochial vicar at Sacred Heart Catholic Church in New Smyrna Beach.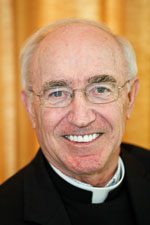 Father William Ennis, Holy Family Catholic Church, Orlando
God's providence has always been a vital part of Father Ennis' life. Since deciding to become a priest when he was an altar server in his local cathedral parish of St. Eugene in Ireland, to his ordination and throughout his ministry, he's always been aware of God's presence in his life.
"It's awesome to reflect back now and see and be aware of his presence always guiding me (through the good and not-so-good times) all through my priesthood," he said, adding that everyone is called to live their lives in the awareness of God's presence.
Father Ennis was ordained to the priesthood on June 6, 1964, in the Cathedral of the Assumption of Mary in Carlow, Ireland. Shortly thereafter, he was recruited to become a priest in the St. Augustine Diocese by Msgr. John T. Burns. At that time, the Diocese of Orlando had not been formed, and most of its area was included in St. Augustine.
He was assigned to the faculty of Bishop Kenny High School in Jacksonville and also to the staff of nearby Church of the Assumption, before returning to the Cathedral of St. Augustine, where he served as assistant to the chancellor.
Father Ennis ministered to the faithful of St. Paul – now the Basilica of St. Paul – in Daytona Beach. He was then sent to The Catholic University of America in Washington, D.C., where he obtained a master's degree in modern European history in May 1968.
He returned to Florida to the newly formed Diocese of Orlando where for the next 46 years, he served her people at Bishop Moore Catholic High School and St. Charles Borromeo Catholic Church, in Orlando; All Souls Catholic Church in Sanford; St. Peter Catholic Church in Deland. In July 1992, he was assigned as pastor of Holy Family Catholic Church in Orlando, where he celebrates 22 years of service today.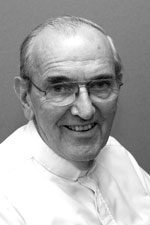 Father Frank Smith, Retired
Father Frank Smith
Retired
Father Frank Smith saw little signs throughout his life that God was calling him to the priesthood; however, he did not heed the calling until he was 28 years old.
The youngest of eight children, Father Smith was born in Philadelphia. After graduating high school, he worked a few jobs before being drafted in 1952 and serving 16 months in Korea. Upon his return from military service, he studied at La Salle University in Philadelphia on the GI bill, where he earned a degree in industrial management. He then worked for a year as an efficiency expert. Still, God was calling.
"Every spring I would get a bug to go into the seminary," he said.
In 1959, at 28, he entered St. Jerome Seminary in Kitchener, Ontario, Canada. After a year he moved to Louvain, Belgium, and spent the next four years in the seminary. He was ordained with 24 other men in 1964.
Father Nelson began his priestly ministry in the St. Augustine Diocese, which then encompassed Orlando. He served at St. Martha in Sarasota and then taught history and English at Bishop Barry High School in St. Petersburg. From there he was assigned to Blessed Trinity in Ocala, where he spent 10 years and started a mission parish in Ocala National Forest.
He has worked for two years in the Diocese of Orlando diaconate program.
During the next several years, Father Smith served at Good Shepherd in Orlando; Epiphany in Port Orange, where he oversaw the renovation of the church and built Epiphany Manor, housing complex for low-income senior citizens; and Ascension in Melbourne, where he oversaw the building of a new school and Ascension Manor, another housing complex for low-income senior citizens.
Father Smith retired in 2001 and served at St. Margaret Mary as a retired part-time associate. He is completely retired now and lives in Melbourne.
"I love Christ and the Church. I wouldn't change being a priest," Father Smith said. "It's a great life and I'd do it all over again."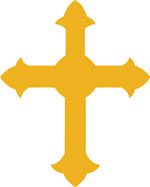 Father Domingo Gonzalez, Retired
When Father Domingo Gonzalez was in grade school in his homeland of Cuba, his teacher, a religious sister, asked her students what they wanted to be when they grew up. When they were finished, she asked if anyone wanted to be a priest. The young boy glanced around the room and saw that no one had responded so he raised his hand.
"I raised my hand out of compassion for the woman," Father Gonzalez said in a 1987 interview with the Florida Catholic.
Still the seed was planted. "I don't remember a time when the Holy Spirit came and dropped that bomb on me. It just seemed like the natural thing to do," he said.
Father Gonzalez was ordained a priest at the National Shrine of the Sacred Heart in Washington, D.C., August 9, 1964. The year before his ordination, he was an adjunct professor of languages at St. Francis de Sales College Seminary in Oklahoma City. Throughout his priestly ministry he has served the faithful of New York, Missouri and central Florida.
Father Gonzalez was incardinated into the Diocese of Orlando in July 1984.
From 1972 to 2014, he served at St. James Cathedral in Orlando, St. Teresa Catholic Church in Titusville, St. Mary Catholic Church in Rockledge, St. Jude Catholic Church in Ocala, St. Ann Catholic Church in Haines City, and St. Thomas Aquinas Catholic Church in Bartow. He was also the episcopal vicar-delegate for Hispanics in 1979.
During that time, he also earned a doctorate in education from Western Kennedy University in Wyoming in 2004, and also studied psychology and social work.
Father Gonzalez retired in 2001. He currently serves as an assistant at Church of the Resurrection in Lakeland.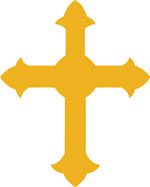 Father Joseph Maniangat, Retired
Father Maniangat was born in Kerala, India and was ordained on December 2, 1964 during the International Eucharistic Congress in Bombay, India. He has served as pastor at parishes in India, Jamaica and the Diocese of St. Augustine until his retirement in 2005. He has served as a chaplain at a mental hospital and the Florida State Prison in Stark, Florida where he ministered to 4,000 inmates, including death row inmates. He moved to Ocala after retirement to be close to family. He is still serving part time at Christ the King Mission in Ocala.
"My priesthood has been a great blessing that God has given me," said Father Maniangat.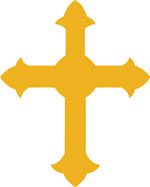 Father Vincent Pierino, Retired
Father Vincent Pierino's 50 years of service is a testament to his love of Christ and the call to priesthood he first felt while attending high school in Buffalo, New York. That call has taken him to various parts of the world, and even to serve as a federal prison chaplain in Puerto Rico, where he once coached an inmate basketball team that became island champions.
He was ordained February 22, 1964 at St. Joseph Cathedral in Buffalo, New York
He volunteered to be a missionary priest and serve the Spanish community in Puerto Rico and South America. Needing to first learn to speak Spanish, he attended a language school in Lima Peru. He served 25 years at various parishes in Puerto Rico.
"In thanksgiving for the Irish priests who went to Rome and learned Italian and cared for the Italians living in Buffalo, I offered to serve the Spanish community, learn their language and minister to them," said Father Pierino.
He also served as a military and prison chaplain, meeting the spiritual needs of the inmates and soldiers during their difficult years. He explained his ministry this way:
"We ask inmates to change their lives, to convert. The Gospel message is alive and invites all to come to faith," he said.
He comforted the prisoners with these powerful words: "Jesus died an inmate. He was arrested. He experienced what you experience and he loves you."
In 1995, the Federal Government asked Father Pierino to transfer from a federal prison in Puerto Rico to the Coleman Federal Prison in Sumter County, part of the Diocese of Orlando, because he spoke Spanish. In addition to serving there, he also started the first weekly Spanish Mass at St. Lawrence Parish in Bushnell.
After two heart attacks, he retired in January of 2004. While weaker than in his younger years, he still serves the people of God by hearing confessions and occasionally celebrating the Holy Mass.
ENDNOTE: Bev McDonald of Lakeland and Father Gilbert Medina, pastor at St. Mary of the Lakes in Eustis, also contributed to this story.
Also living within the Diocese of Orlandoand celebrating a golden jubilee: Archbishop Edward Gilbert, C.Ss.R.,a retired Redemptorist who formerly served as bishop of the Diocese of Roseau in Dominica, from 1994-2001, and as archbishop of Port of Spain, Trinidad and Tobago, between 2001-2011.