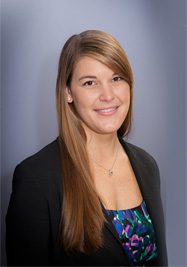 Allan E. Keen, Chairman of the Board of Directors for The Catholic Foundation of Central Florida, announced that Meghan Post has been named President of the Foundation, effective January 1, 2013.
Post began her ministry with the Catholic Foundation in 2008 as a Campaign Director for Alive in Christ, a $150 million capital and endowment campaign and the first diocesan-wide campaign for the Roman Catholic Diocese of Orlando. Appointed Senior Campaign Director in 2010, she provided direct support to individual parishes while helping to oversee the broader diocesan effort involving 92 parishes and missions across a nine-county geographic area.
She served most recently as Vice President of Advancement and Chief Administrative Officer while assuming additional responsibilities as acting President throughout most of 2012.
"The members of the Board of Directors are highly confident that Meghan can deftly take the reins as President, and guide the Foundation through an exciting period," noted Keen. "The considerable poise and leadership that she has demonstrated over the past 12 months more than affirmed our convictions, and we are honored that she has accepted our invitation to serve God's people in the new capacity as President of the Catholic Foundation."
Established in 2008, the Catholic Foundation of Central Florida, Inc. is an independent non-profit foundation committed to raising, managing and distributing charitable funds that sustain and grow the local Catholic community. Fully endorsed by the Diocese of Orlando and its Bishop, the Catholic Foundation works extensively with Catholic parishes, schools and ministries to help secure the resources they need to further their long-range goals and expand their witness.
In her role as President, Post will work to implement the Catholic Foundation's ten-year business plan. This ambitious plan calls for a renewed emphasis on the annual diocesan fundraising effort, Our Catholic Appeal, along with the introduction of new programs aimed at strengthening parishes through offertory enhancement and planned giving.
"Meghan has been instrumental in developing our ten-year plan that will transform the work and witness of our Church, taking it to a level unprecedented in the 45-year history of the Diocese of Orlando," added Keen. "Her leadership and vision are investments in the future of our Church."
Carol Brinati, Chancellor for Administration for the Diocese of Orlando, echoed Keen's enthusiasm, noting that Meghan "has been leading the Catholic Foundation of Central Florida for a number of months and has done so with grace and professionalism. Her ministry is assisting each one of us in understanding and supporting the mission of the Catholic Church."
Post has over eight years of experience working for nonprofit organizations. Prior to joining the Catholic Foundation of Central Florida, she served as Senior Director for the Orlando chapter of the American Heart Association. A graduate of the University of Florida, Meghan holds a Bachelor of Science degree in Public Relations and a Master of Arts degree in Mass Communications, with a specialization in nonprofit management.
For more information about the Catholic Foundation of Central Florida, click here: http://www.cfocf.org/