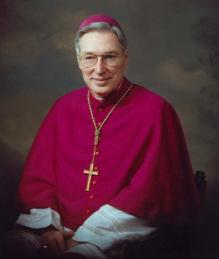 A Memorial Mass will be celebrated for Bishop Thomas Grady, second Bishop of the Diocese of Orlando, at 10:30 a.m., Monday, April 21, at St. Margaret Mary Catholic Church, 526 N. Park Avenue, Winter Park.
The celebration of Mass commemorates the 12th anniversary of Bishop Grady's death, on April 21, 2002. All are invited to participate.
Bishop Grady served as Bishop of Orlando from 1974 to 1989. During that time, he established 22 churches in the Diocese of Orlando, including the Basilica of the National Shrine of Mary, Queen of the Universe; founded San Pedro Spiritual Development Center, a place for prayer and renewal for Catholics; and created the diocesan mission office which established a relationship with the Diocese of San Juan de la Maguana in the Dominican Republic.
Bishop Grady Villas, a residential community for adults with developmental disabilities, was established in 2004 and is named in his honor.