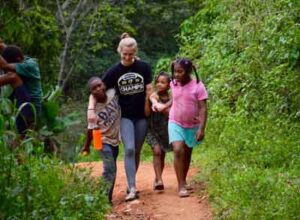 Mary Kate, 17, took her first mission trip with fellow Bishop Moore Catholic High School students last February. They helped students of Alta Gracia Elementary School, located in the mountain town of Los Frios. "As soon as I was home, I wanted to go back," she said.
Last month, she returned with her mother, Jennifer, for a two week teaching mission to Los Cuayuyos.
The mother/daughter duo worked in the village of La Cucarita helping high school students prepare to take the SAT exam during a two week intensive camp. The family, parishioners of St. Margaret Mary in Winter Park, also opened their home to a student from the Dominican Republic in 2014.  Each year, a handful of students come to the Diocese of Orlando to attend Catholic high school on a scholarship.  They hosted Luis José Aybar who is now attending Valencia State College.
In 1983, the late Bishop Thomas Grady initiated a mutually beneficial sister relationship between San Juan de la Maguana in the Dominican Republic (D.R.) and the Diocese of Orlando. Over the past 32 years, Ursuline Sister Bernadette (Bernie) Mackay, has served as Director.  On average, she leads 20 mission trips per year enabling missionaries to fulfil their Gospel call to share their time, talent, and treasure, with those who have limited access to the wealth and resources of the earth.
More than 500 volunteers give over 30,000 hours of service each year. In the past decade alone, the mission-run schools have grown from 60 students to more than 400 at five elementary and middle schools and 41 students in the diocesan residents' high school program. This summer, more than 50 people from 17 different parishes will participate in a mission trip to the sister diocese in the D.R.
Marianne Rhode is a full-time volunteer who has gone on almost 40 missions, including a teaching mission earlier this summer. She says the personal and spiritual growth has brought her heart so much joy.
"It has been so rewarding to see the women teaching who could barely read and write themselves that have now graduated from universities with teaching degrees. It has also been inspiring to see how young people and families sacrifice to take advantage of the opportunities they're given," Rhode said
She recalled, "When this program to the U.S. started, a student was selected and his father had been saving money to put in a cement floor in his house, instead of a mud floor. But he had to use the money to purchase the boy's passport.  So the whole family literally sacrificed still having a mud floor. So when it rains, it puddles."
And when it rains in the D.R., it pours. Mary Kate and her mom recalled not being able to return to La Cucarita one night because a horrible rain storm moved in.
"We couldn't go anywhere," remembers Jennifer. "It turned out to be the biggest blessing of all. We were cold, wet and tired. Neighbors were showing up at the door with sweat shirts and food. I remember being moved to tears because it is the nicest thing that anyone has ever done for me."
Nicole, 18, also remembers that night. She says the missions have changed her life. She explained, "They are just a part of who I am right now. I realize that the best things in life aren't material things. It's actually the love and the support you have with your family and your friends in the community."
Nicole's most memorable experience though, was walking through ankle deep mud one day with two other missionaries and being stopped by a woman who begged them to come into their home so she could wash their feet. "It was just like the Bible story, when Jesus washed the people's feet. I was in shock that she was washing our feet. I had goosebumps everywhere."
Mary Kate and all the volunteers who have traveled over the years comment on this strong sense of community and caring. She shared a letter from one of the students, Ayhandert, which she felt depicted the Dominican heart. In his letter to the teachers who had come to help them, he said, "I want all of you to know all the time that you never left from your home because this is your home too."
"We go to the Dominican Republic with the idea that we're doing this great work of mercy, serving these people," Mary Kate added. "But they are doing just that to us… these people are actually demonstrating to us the works of mercy, feeding the hungry. They were clothing us; they were giving us shelter through the night." Jennifer agreed, "It reminds me to count my blessings, to give thanks and to be faithful because they truly do give everything over to God. They truly believe and demonstrate and remind us that God is ultimately the one who is in charge and we owe all of our blessings to Him."
To learn more about upcoming missions and how you can help, visit https://www.orlandodiocese.org/ministries-offices/mission-office-welcome/ or call Caroline Genovesi at 407-246-4863.