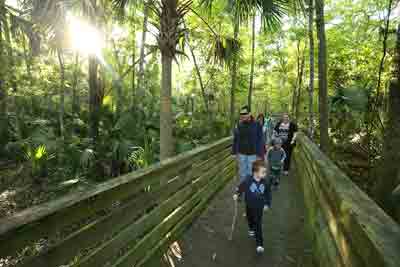 It was a crisp 56 degree, blue-skied morning April 9th for two dozen Most Precious Blood parishioners who went on a guided hike into the Black Hammock Wilderness area in Oviedo. Organizing the hike, Jim Reilly, leader of the Encountering Christ Outdoors/ECO-Wellness ministry, took both children and adults through several miles of sand pine scrub, pine flatwoods, and mixed hardwood swamp areas.
"It's about stewardship," said Reilly. "There are so many natural things around us, that nobody knows about it. It can't be stewardship if you don't know what they are; if you have never seen a wetland, forest, or lake. So, we try to introduce them to it through the ministry," explained Reilly. Offering a 2 mile or 4.5 mile hike, so that people could walk according to their ability, Reilly said, "I try to make the activities easy and accessible, so it's kid and senior friendly."
Gathering in church parking lot, the group prayed together, thanking God for the blessing of nature and acknowledging the responsibility of everyone to protect it. The group learned about the trail and conditions and followed each other to the trailhead. The walk began after Reilly issued a casual warning to watch out for snakes, while a youngster in the group reminded everyone that 'not all snakes are bad'.
Tom Lane, a parishioner who opted for the shorter 2 mile route, said while enjoying the hike, "You forget that these things are out here. It's a great opportunity to explore and appreciate what is so close by."
"It was a glorious morning to take a walk," said Judy Schroeffel, a parishioner since 2005, who was part of the group. "To get out and walk with nature, and see what God has made. People may not want to do it on their own, so going with others was a plus."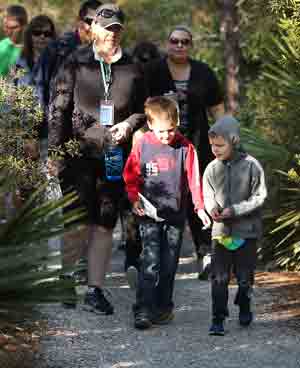 The ECO-Wellness ministry meets once a month for activities including biking, kayaking, airboat rides, geocaching, and zip-lining, all designed to get people outside to appreciate the natural world close to home. For the children, Reilly, a former special educator, organizes scavenger hunts with pictures, shows them how to lookout for trail markings, and points out gopher turtle mounds, along with animal bones and tracks. "I want the kids to learn and have confidence," says Reilly, who explained that the ministry has a tradition of having the children lead the group back to the beginning of the trailhead. "I love the outdoors. When you love something and it has positive effects, you want to share it."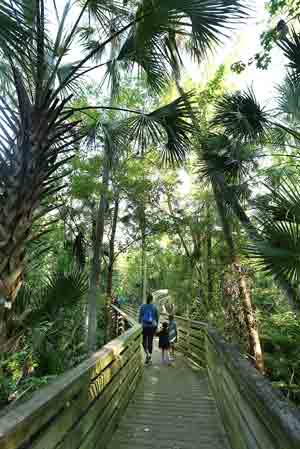 The church property of Most Precious Blood is quite unique. It is situated along the Florida Trail, a national scenic trail that extends 1300 miles from Pensacola through Central Florida ending near the Everglades. Reilly explains that much of the parish property is part of Seminole County's conservation efforts. The parish takes environmental stewardship seriously, as they have adopted a two mile stretch of Lockwood, the road that passes in front of the parish, and does a roadside cleanup twice a year as part of their ministry.
"I would tell people to go, who may be hesitant, to go try it," recommended Janette Martinez, Director of Stewardship at Most Precious Blood. "There are few ministries that are intergenerational, that represent all types of family life. As part of our vision as a parish, we are asked to reach wide, beyond the walls of the church. This ministry is a major highlight of that vision."