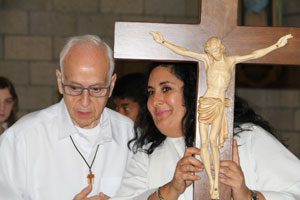 The Missionaries of La Salette held their second Lay Ministry Summit in Orlando Oct. 24-46. The conference, which was offered free of charge to all participants, was designed to empower and encourage the laity to partner with La Salette priests and brothers to serve the Church. Close to 400 people attended the three day event.
"It was a wonderful experience of community and parishes served by the La Salette congregation and a reflection on the charism of La Salette, which is reconciliation at work in the reality of lay ministry," said La Salette Father Roland Nadeau.
People from far away as New Hampshire and Texas attended the summit.
"It has been a wonderful event and we are blessed to be here. It allows us to grow deeper in our faith and community. I was attracted to the La Salettes because of their reconciling spirit. The message of our Lady and how they live it in their charism is so inspirational," said Ellen Herrel, St. Ann Catholic Church in Marietta, Ga.
Participants could select from more than 30 break-out sessions in English and Spanish that covered topics such as the ministry of the deacon, homeschooling, discipleship and stewardship. The conference was held at three different churches served by La Salette priests: Good Shepherd and Blessed Trinity Parishes in Orlando and Centro Guadalupano Mission in Wahneta.
"Many of us enjoyed visiting the mission in Wahneta and experiencing the hospitality and culture of the migrant farm workers," said Father Nadeau.
The Year of Faith which concludes on Nov. 23 was also a major theme of the summit. Bishop John Noonan spoke of this during a session at the summit on Oct. 26 at Blessed Trinity Catholic Church, Orlando. He spoke of the relationship between justice and discipleship
"We are disciples in that we are to be followers of Jesus Christ. Justice means we are to know who Jesus Christ is. If we don't know Jesus, how can we say that we can bring his message to the world?" said Bishop Noonan.
He also spoke of the need to rediscover the importance of liturgy and prayer. "The most important prayer we have is the prayer of the Mass," he said. "Sometimes we fail to see how important the vision of the Church was when it said that people need to be able to pray in the language they know. It is important to be able to pray with words that not only touch your mind but touch your heart."
Bishop Noonan said we are to continually search for God and build a greater awareness of his role in our lives.
"We forget that in the Scriptures, even Jesus felt lost and forsaken in the agony of the garden," Bishop Noonan said. "Pope John Paul II tells us, 'Do not be afraid.' We are never to give up. We are never to lose the opportunity to truly experience God."
Bishop Noonan said while it is important to have a strong knowledge of our faith, we are not to forget that we are to have a spiritual life as well.
"Pope Francis reminds us that we must know Jesus Christ," he said, "we must have a relationship with Jesus Christ, and we must feel the embracing love of Jesus Christ in our lives."
The La Salette, Province of Mary, Mother of the Americas is an association of the faithful formed in France in the 19th century and based on the Blessed Mother's apparition and message to two small children at La Salette, to "make her message known." The group's charism is to preach the word of God, to exercise the ministry of Reconciliation, to celebrate the Eucharist, and to heal the hurts and deepen people's awareness of God's ongoing call to repentance.