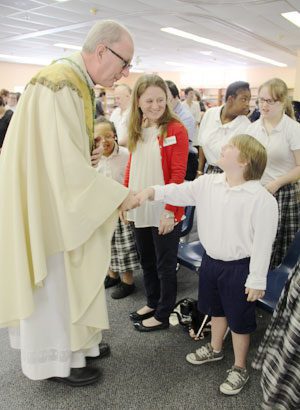 Family, friends, staff and students of Morning Star School gathered for the celebration of Mass with Bishop John Noonan on December 6 to give thanks for the many blessings the school has received during the past year. Fitting to the occasion, December 6 is the Feast Day of St. Nicholas.
"Nicholas decided when he was growing up that he wanted to be a priest," Bishop Noonan told the children. "And he was a very good priest because he looked after the people, just like Father Al and Father Augustine who come here to visit you. He was looking after all the people."
Kathy Harding, principal, said the annual Thanksgiving Mass is a joyous occasion for the school.
"Morning Star would not exist were it not for the generosity of individuals and groups like the Morning Star Auxiliary," Harding said. "From our beginning in 1960, individuals have realized the importance of a Catholic school for children with special needs. We can never adequately express to people how much their thoughtfulness and generosity means to Morning Star."
During the celebration, Barbara Bischof, president of the Morning Star Auxiliary presented the school with a check for $9,000, proceeds from the first Dream Makers Luncheon, held November 14.
In addition, Henry Fortier, superintendent for the Diocese of Orlando Office of Catholic Schools, encouraged guests to visit the classrooms and see the many improvements, most notably the white board technology and addition of iPads, made throughout the year. He noted the school's success would not be possible without the support of many.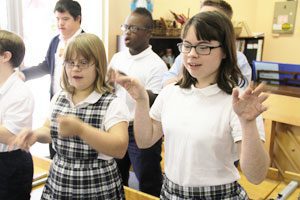 "The first Morning Star is the light that points to Christ," said Fortier. "As you look at the children here, their faces, the joy, this is the light of Christ. I thank you all for your continued support. It is always amazing."
At end of the Mass Bishop Noonan offered his own prayer of thanks. "We thank the Lord today for all of the students at Morning Star," Bishop Noonan said, "and we thank the Lord for all of the teachers. We thank the Lord for everything he has given us on this day, for all the parents, for all those people who help us, but especially we thank the Lord for all of you students here at Morning Star. We pray that He will continue to bless you and help us grown-ups to really know God's love in our lives."