ORLANDO | A group of students saunter into a large hall and Jessica Hubbard begins to explain their service project—helping schools in the Bahamas obtain school supplies. The students from Morning Star School in Orlando are smiling, active and eager- love of neighbor and a desire to help is fundamental to who they are.
They begin to form a line and gather items into their gallon-sized bags – a spiral notebook, folder, coloring book, glue stick, pencil, sharpener and crayons. Jaylen is a middle-schooler who says, "It felt great helping people whose homes are poor, or are sick and who don't have families or schools." He understands that students like him can't go to school because Hurricane Dorian destroyed their way of life. "I feel really bad for them," notes Jaylen seriously. "I hope this makes them feel a lot, lot better."
After Hurricane Dorian pelted the Bahamas, Jessica Hubbard, director of advancement at the school that serves students with special needs, reached out to a longtime friend who has family living in Freeport. The family is active in relief efforts through their parish and school board. "They are people who really know what the need is," said Hubbard. Between their list of needs and generous donations, she put together a service project for the Morning Star students. Tom Doyle, president of Morning Star, says this is the beginning of a series of service projects planned in the near future.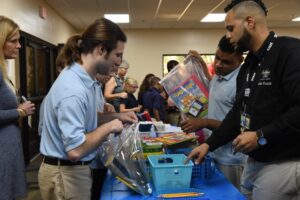 Doyle notes the importance of charitable giving. "It's in giving that we receive, right? Any opportunity that any student, including the Morning Star students, has to give to others, they learn something about themselves." He notes that Morning Star students "are giving every day," as they interact with nearby Bishop Moore and St. Charles Borromeo students. Those students "receive enormous benefits from that relationship," he says adding, "How do you teach empathy?"
Amanda Livermore is the vice president of mission effectiveness for both B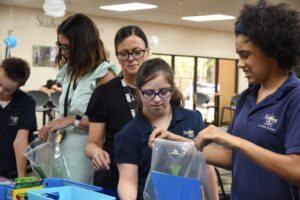 ishop Moore and Morning Star. She says, "All of us, each individually as children of God, are invited to both recognize Christ in the world and also be the hands and feet of Christ in the world. We are very excited for the students here at Morning Star to get that opportunity. So many people in the diocese do so much to support Morning Star, but Morning Star students also have so much to give. It's wonderful for them to have this opportunity to serve, to recognize the need in the Bahamas and to be able to offer some of the things that mean so much to them, like school supplies, and to share a little bit of that love."
By Glenda Meekins of the Florida Catholic  October 16, 2019