A graceful tree with outstretched branches dotted with birds and butterflies tells the story of a hopeful people seeking a new life in the United States. The tree and other elements are part of a colorful mosaic, "Hope Rising," that graces the entrance of the Hope CommUnity Center in Apopka. A year in the making, the artwork was unveiled before a crowd of nearly 100 people during a special ceremony on Sept. 22.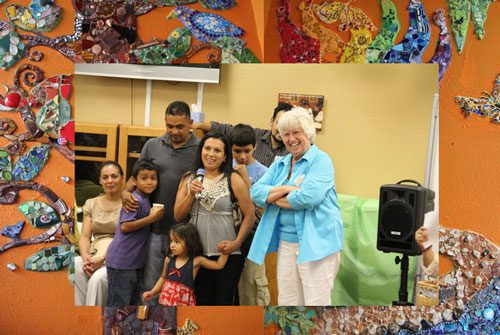 Created primarily by the teens and women of the community, with ceramic and glass tiles, as well as personal items brought from their homes, the mosaic was designed to symbolize the personal journey of immigrants as they strive to make our country home to their families. The mosaic is also a living piece of art, embedded with high tech tools such as QR (quick response) codes and NFC (near field communication) chips that when scanned with iPhones and other electronic devices take the user to a website that tells the stories of the immigrant journeys.
"This project has enabled our community the chance to express themselves and their heritage in a positive and valuable way," said Sister Ann Kendrick, director of Community Relations at Hope CommUnity Center. "They each have life experiences and value they bring to our communities' tables. We just have to allow them the chance to pull up a chair."
"I look at this mosaic every morning when I come to work," she continued. "Unlocking the door used to take me two minutes. Now it takes 15."
The project grew out of a partnership between ArtReach Orlando, an art outreach program that works with children in underserved areas of Orange County, and the Hope CommUnity Center. Workshops were held twice a week at the center, with each participant having the opportunity to add his or her own unique vision to their part of the mosaic.
"Whether they were working on a leaf, bark or butterfly, each piece took on the story of its artist," said Janis Nunez, artist in residence at ArtReach.
"The idea of the mosaic was to show how every member of our community has an impact on who we are as a society and how the differences we each bring make our community stronger and more vibrant," said Brenan O'Connor, Social Justice project manager for ArtReach. "The mission of this project was to put a face on the people who use the center."
Magdalena Vera was one of those faces.
"We loved when we had the chance to break up all of the plates, tiles and the things like that," she said in Spanish. "We were able to pick our own colors and the design we wanted to do and we came to it with joy. We loved doing it. We did it with a lot of heart and a lot of pleasure."
"A mosaic takes the broken pieces and puts them together and makes something beautiful," Sister Kendrick said, "and that is what this mosaic symbolizes. People come here seeking a new life, but how is the trip? The journey is long; the journey is hard; there are many obstacles on the road, yet out of that journey, hope rises."